When Mark Mangino was trying to figure out his next move after accepting the job as Kansas University's head football coach, he spoke with someone who'd been through a coaching change before.
Mangino, a former Oklahoma assistant head coach/offensive coordinator, talked to OU head coach Bob Stoops, who left Florida to join the Sooners around this time three years ago.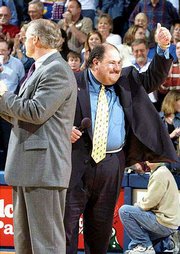 "I talked to coach Stoops about it and he told me he had absolutely no problem with me getting here, going to work and getting started," Mangino said during a press conference Tuesday afternoon at Hadl Auditorium. "Coach (Steve) Spurrier at Florida told Bobby, 'Bobby, you'd better get going. You've got a lot of work to do. Don't worry about us.' That's about what Bob said to me.
"He said, 'Mark, you had better get up there. You've got a lot of work to do.'"
Not exactly a comforting thought for someone whose only experience as a head coach was a season at Ellwood City (Pa.) High in 1990.
What Mangino lacks in head coaching experience, he more than makes up for with on-the-job training. While he was with Kansas State from 1991-98 and OU the past three seasons, the Wildcats and Sooners posted a combined record of 101-30-1 overall.
He also received the Frank Broyles Award as the top college assistant for his role in the Sooners' national championship last season.
"These are uncharted waters for me," Mangino said, "but I have been very, very fortunate to have worked with two of the best football coaches in America and I don't know if anybody in this room will dispute that in Bill Snyder and Bob Stoops.
"The only thing I can tell you, I took good notes in the meetings."
After being offered the job on Sunday and accepting it on Monday, Mangino planned to spend Tuesday and some of today in Lawrence before returning to Norman, Okla., to "tie up some loose ends."
He said he was going to begin making recruiting calls Tuesday and hoped to have a few staff members in place when he returned to Lawrence in a few days. He also said the only way he'd be going to the Cotton Bowl with the Sooners was as a spectator.
Mangino likely will use a combination of coaching philosophies from both Stoops and Snyder.
"Our offense will look similar in some ways to OU," Mangino said, "but there will be some things that I had planned to implement at OU next year that we will work on to implement here at KU.
"On the defensive side, who wouldn't want to have a defense like OU? That's our goal to put together a defensive unit and defensive style that we have at OU."
As far as the K-State flavor, Mangino said he'd use some junior college players to help build his program early, but wouldn't rely on them as much as the Wildcats. He did admit he might take a page from Snyder's scheduling playbook, though.
"I believe in the infant stages of our program we should be playing people we have a chance to compete with early on in nonconference," Mangino said. "We are going to gradually build into middle-of-the-road conference teams, maybe one top-25 team.
"But I think here to get our feet going, sure, we've got to play teams we have a chance to compete with early on in the season."
Mangino said there was as much support from Bohl and KU Chancellor Robert Hemenway at Kansas as there was from the Kansas State powers that be while he was there.
He also said the Jayhawks are in position to succeed.
"I have viewed the University of Kansas for 11 seasons from the other side of the field," Mangino said. "There has been many times we've looked across the field or we've been right here in this stadium and said, 'Why? Why aren't they better?'
"I've talked to different people who have coached in this conference like I have for many different years and there wasn't one assistant coach in this conference that didn't believe that KU had everything, and with the commitment that we have here now, to be a successful program. I think we can be."
Copyright 2018 The Lawrence Journal-World. All rights reserved. This material may not be published, broadcast, rewritten or redistributed. We strive to uphold our values for every story published.