RAMALLAH, West Bank — Israeli warplanes and helicopter gunships unleashed fierce airstrikes Tuesday on several Palestinian cities, firing rockets at a police building within 50 yards of Yasser Arafat's main office in the West Bank.
The Palestinian leader fled to an underground bunker just before the attack and was not injured, aides said. Israel said he was not a target.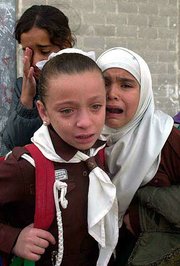 "Israel hit material, not people," said Israeli Foreign Minister Shimon Peres. "This was more of a warning than a punishment."
Still, the strikes retaliation for last weekend's Palestinian suicide bombings and shootings that killed 26 people in Israel took their toll.
At least three people were killed, including a 15-year-old Palestinian boy. Doctors reported more than 150 people wounded. Hundreds of terrified school children ran for cover in Gaza as jets roared, shrapnel flew and black smoke billowed.
"If the Israelis continue to kill our children, and prevent our movement, and bomb Mr. Arafat's offices, there won't be any chance for peace," said Marwan Bargouti, an Arafat aide, moments after the attack.
In Washington, the Bush administration froze the assets of three organizations allegedly linked to Hamas, one of the groups that claimed responsibility for last weekend's barrage of terrorist attacks on Israeli civilians in Jerusalem, Haifa and elsewhere.
Federal agents also raided and shut four offices of one of those organizations, the Holy Land Foundation for Relief and Development. The offices were in Richardson, Tex., Paterson, N.J., San Diego, Calif., and Bridgeview, Ill.
The two other entities targeted Tuesday by the United States, both based in Palestinian-controlled territory, are Al Aqsa International Bank and Beit El-Mal Holdings Co., an investment group.
The action signaled new U.S. support for Israel and an expansion of the administration's war on terrorism, employing a tool previously applied to Osama bin Laden's al-Qaida terrorist network and other enemies of the United States.
"I think the Israeli people want to have peace, but we learned in such a vivid way that there are elements in the Middle East that hate the thought of peace and will be willing to use terror to derail any type of peace process," Bush said during a town hall meeting in Orlando, Fla.
Representatives of the Holy Land foundation said they never violated any U.S. law and never served as a front for Hamas, but U.S. officials disputed that.
"This organization exists to raise money in the United States to promote terror," said Treasury Secretary Paul O'Neill.
Copyright 2018 The Lawrence Journal-World. All rights reserved. This material may not be published, broadcast, rewritten or redistributed. We strive to uphold our values for every story published.