Samantha Mangino chose to attend Kansas University, in part, to strike out on her own away from her family.
Now a sophomore, she's looking forward to her father, mother and brother moving to Lawrence.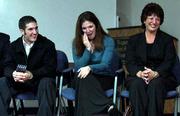 "I wanted the experience of being on my own," she said. "Now I've been here a year and a half, and to have them be a part of things is even greater."
Mangino's father, Mark, was introduced as KU's new head football coach Tuesday afternoon. Samantha Mangino struggled to hold back what she called "tears of joy" after the press conference.
"It's like a dream come true," she said. "It's the best of both worlds."
Samantha Mangino, a strategic communications major, is a student assistant for media relations at the KU Athletics Corp. She lives at Pi Beta Phi sorority and is involved in the Public Relations Student Society of America and Youth Friends mentoring program.
She graduated from Manhattan High School in 2000. Though she considered other universities including Kansas State University, where her father coached from 1991-1998, and Oklahoma University, where he coached later she had her heart set on KU.
"I pulled a dirty trick on her," Mark Mangino said of following his daughter to KU. "She said, 'I like K-State and OU,' but she said, 'I wanted to go out on my own and be independent.'"
Now, Samantha Mangino said, she's looking forward to spending more time with her family.
"I'll be going home more often and not just to do laundry," she said.
Samantha's family said they, too, feel like they're coming home, since they lived in Manhattan eight years.
"We're very excited to be here," Mary Jane Mangino said. "We love it. This is home for us. Our children consider Kansas their home. They've grew up most of their life here. Samantha goes to school here, so this is home to all of us."
Mary Jane Mangino said she's not concerned about interfering with her 20-year-old daughter's life.
"I didn't intrude on her social life when she lived at home," she said. "She's been here a year and a half now getting the independency out of her system a little bit. But she still says she has a life of her own and not to expect her home for dinner every night. I told her, 'That's OK. We have a life, too, now.'"
Tom Mangino, a junior at Norman North High School, plans to transfer to Lawrence for the spring semester.
"I'm real exited to be here," Tom Mangino said. "My sister is here and I've been up here a couple times, and I've always liked it. I never thought I'd end up here. But I'm here, and I'm having a good time."
Tom Mangino started at quarterback for his high school football team last season, and he plays catcher, shortstop and third base in baseball.
Copyright 2018 The Lawrence Journal-World. All rights reserved. This material may not be published, broadcast, rewritten or redistributed. We strive to uphold our values for every story published.