Washington — Whatever Mother Nature decides, first lady Laura Bush ensured a white Christmas for the White House by blanketing the mansion's State Floor with 800 pounds of artificial snow.
With crystal snowflakes and silvery icicles covering 49 live fir trees throughout the Grand Foyer, East Room and State Dining Room, the president's home is decorated in monochromatic white this year, a look that Mrs. Bush said she chose for its elegance.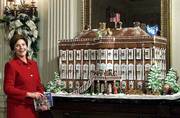 "I love the simplicity of it," she said Monday as she led reporters on a tour designed to give the general public through newspapers and television its only look at the elaborate holiday decorations. The Bushes, under advice from the Secret Service, canceled the popular public tours after the September terrorist attacks on Washington and New York.
"I am sorry about that. I think our responsibility the president's and mine, as the current residents is to err on the side of safety and caution for everyone who goes to the White House," Mrs. Bush said.
"You can really help us by letting people who can't come to the White House this year see what the decorations are like."
Keeping with her "Home for the Holidays" decorating theme, replicas of former presidents' homesteads from Thomas Jefferson's Monticello to James Buchanan's Wheatland stand on mantelpieces and tabletops throughout the White House. For ornaments on the centerpiece 18-foot Christmas tree in the Blue Room, artists from each of the 50 states and the District of Columbia were invited to contribute all-white replicas of historic houses in their own states.
In the private living quarters upstairs, staffers decorated the family Christmas tree on Sunday with ornaments from the Bush family collection, including those made by twin daughters Jenna and Barbara when they were children.
"We did not decorate it ourselves this year," Mrs. Bush confessed. "That may be one of the reasons he ran for president. Only kidding."
Copyright 2018 The Associated Press. All rights reserved. This material may not be published, broadcast, rewritten or redistributed. We strive to uphold our values for every story published.