Rev. Ron Goodman reluctantly became pastor of First Christian Church in August 1976.
At the time, he was 28 years old and focused on Campus Christians, a student ministry he founded at Kansas University in 1973.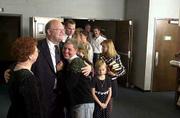 "I didn't think I wanted to be part of an older, established congregation," he said.
On Sunday, amid hugs, smiles, tears and laughter, Goodman, 54, stepped down as pastor of First Christian Church. Until yesterday, he had the longest tenure of any religious leader in Lawrence.
Goodman and his wife, Barbara, are moving to northern Michigan, where he has a new job as associate pastor of leadership development with Stutsmanville Chapel, a regional community church in the Petoskey/Harbor Springs area.
On Sunday, First Christian Church was packed with about 400 people for Goodman's final service and about 300 who stopped by for an afternoon farewell reception.
Ron Goodman stepped down Sunday as pastor of First Christian Church. He has worked in Lawrence since 1973, and was pastor of First Christian from August 1976 to Dec. 2.Here is some of what he's done during his time in Lawrence.Led First Christian Church to become a long-term location for the LINK food kitchen.Oversaw a $1.5 million addition and parking expansion to the church in 1991.Started PeaceWays, a program for overcoming life-threatening problems, and Divorce Care, a recovery group for those who experience relationship separation and loss.Founded Campus Christians in 1973, serving as Campus Minister until 1976.Officiated 375 funerals and 330 weddings in the Lawrence area.Served four years as the Convener of the Emergency Services Council.Served for the past nine years on the Board of Directors and a past president of Warm Hearts of Douglas County Inc.Member of Lawrence Officials Assn., officiating junior and senior high football for 23 years.Coached baseball for eight years with Douglas County Amateur Baseball Assn.
Many described Goodman as warm, accepting and full of grace.
"He's just willing to meet people where they are, encourage them, and give whatever kind of support he can," Sheri Penny said.
Larry McElwain said Goodman was a representative to the community through programs such as PeaceWays, which helped people overcome life-defeating problems, and Divorce Care, a recovery group for people who have experienced relationship separation and loss.
"He's kind of been a bridge out into the community," McElwain said. "He's just a very warm person."
Jan Tucker, the secretary at First Christian, said she remembered Goodman for his touching, personal eulogies.
"When I think of Ron, I think of the caring thoughts he gave to my loved one's funeral services," she said. "He really personalizes a funeral."
James Hilliard said he and his wife chose First Christian as their church 12 years ago largely because of Goodman. Hilliard said Goodman walked the middle ground between conservative and liberal churches in Lawrence and always looked for a way to unify the city's religious community.
He also praised Goodman for his efforts at improving First Christian's youth programs.
"Our kids see him like a grandfather figure they just run up and hug him," Hilliard said. "He just lights up when kids are around."
Goodman said he and his wife were ready for new adventures.
"Long-term ministry can be fruitful," he said. "I guess we feel like we've accomplished what we came here to accomplish."
Barb Goodman is closing her personal counseling business in Lawrence and is considering opening a new business when they get settled in Michigan.
Although they are leaving, she said they always would be a part of the church.
"It felt more like a celebration today," Barb Goodman said. "It felt like they're really sending us off to a new ministry."
Goodman said he felt First Christian, which has about 400 active members, had become a stronger, caring community in the last 25 years.
"We've been a church that meets people where they are in life in a nonjudgmental way," he said. "It's not a church where you have to have it all together."
In leaving, Goodman has the same sentiments as when he became pastor.
"We leave reluctantly," Goodman said. "It's been a very fulfilling ministry."
Copyright 2018 The Lawrence Journal-World. All rights reserved. This material may not be published, broadcast, rewritten or redistributed. We strive to uphold our values for every story published.