OAKLAND, CALIF. — When the kick went through for his fourth field goal of the day, Bill Gramatica did a somersault.
What better way to celebrate the biggest upset of the day in one of its wildest games?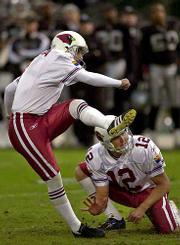 Gramatica and Jake Plummer orchestrated the 34-31 overtime victory for the Arizona Cardinals over Oakland on Sunday the way George Blanda and Ken Stabler used to for the Raiders.
Gramatica kicked a 36-yard field goal with 7:31 left in overtime in the game featuring 18 points in the final 1:47 of regulation.
The winning kick came after Oakland's David Dunn fumbled a punt on the Oakland 25.
Gramatica stole a page from the Raiders' history book by imitating Blanda, famed for his game-winning field goals, and became the second member of his family to win a game in overtime Sunday. His brother, Martin, kicked a 21-yarder as Tampa Bay won in Cincinnati.
The Raiders had forced overtime on Jerry Rice's 2-yard scoring catch on fourth down with 12 seconds left in the fourth quarter.
That came after Plummer did his best Stabler imitation, throwing a 50-yard scoring pass to David Boston with 1:18 remaining, then running for a two-point conversion. Stabler, also nicknamed "The Snake," was known for his wild comebacks as a Raiders quarterback.
"Once you begin to mature as a team, the ups and downs of a game don't bother you," Plummer said. "We're learning to bounce back from a down moment."
Arizona (5-6) won its third straight. The loss broke a 10-game regular-season home winning streak for the Raiders (8-3), who rallied from a 20-7 halftime deficit.
"If we don't start playing better on defense, it's going to be hard. We can't just sit there and win shootouts," said linebacker William Thomas, whose Raiders still have a two-game lead in the AFC West.
Bears 13, Lions 10
Chicago Leon Johnson scored on a 1-yard run with 5:34 left, and the Chicago Bears beat winless Detroit, surviving when the Lions' Jason Hanson missed a 40-yard field goal with 21 seconds to go. It was the third miss of the day for the normally reliable Hanson, who had made 13 of 16 field goals entering the game. Again, the Lions (0-11) couldn't find a way to win a close one their last eight losses have been by a total of 35 points. Chicago (9-2) clinched its first winning season since 1995 by rallying against the Lions, who lost starting quarterback Charlie Batch to a shoulder injury in the third quarter. Detroit, matching its 0-11 record for the entire 1942 season, had 10 penalties.
Steelers 21, Vikings 16
Pittsburgh Troy Edwards, who had all but disappeared from Pittsburgh's offense, re-emerged with a 12-yard scoring run and a big special-teams play, and the Steelers held off a frantic rally by Minnesota. The Steelers, 9-2 for the first time since 1983, were cruising with a 21-3 lead and Vikings quarterback Daunte Culpepper out of the game with a sore left knee early in the fourth quarter. But backup Todd Bouman quickly made a game of it, finding running back Michael Bennett on an 80-yard touchdown pass play with 6:29 remaining and Randy Moss on a 12-yarder just over three minutes later.
Ravens 39, Colts 27
Baltimore Rod Woodson set an NFL record with his 10th career interception return for a touchdown, going 47 yards with 1:34 left to clinch Baltimore's victory over frustrated Peyton Manning and Indianapolis. The Ravens (8-4) committed four turnovers, but rallied to win for the fifth time in six games. In each of those five victories, the Super Bowl champions either trailed or were tied entering the fourth quarter. The Colts led 27-26 until Elvis Grbac threw a 5-yard touchdown pass to Qadry Ismail with 13:29 left. Woodson broke a tie with Ken Houston for most career interceptions for a touchdown. It was the sixth time this season that Manning threw an interception that was returned for a score.
Rams 35, Falcons 6
Atlanta Kurt Warner threw four touchdown passes, Marshall Faulk scored three times, including his 100th career TD, and the St. Louis Rams rebounded to beat the Atlanta Falcons. St. Louis (9-2) was coming off a dismal 24-17 home loss to Tampa Bay on Monday night. The Rams lost three fumbles, and Warner was picked off on the final two possessions. The Falcons (6-5) have been outscored 197-75 in losing five straight games to St. Louis. Warner was 17-of-23 for 342 yards, his seventh 300-yard game this season.
Dolphins 21, Broncos 10
Miami Kenny Mixon returned his first NFL interception 56 yards for the go-ahead score, and a fumble on the ensuing kickoff set up another touchdown to help Miami rally past Denver. The Dolphins came from behind in the final period to win for the fifth time this season, including four of their past six games. They improved to 8-3 and moved a game ahead of the New York Jets in the AFC East. Brian Griese and the Broncos, sputtering again on offense with an injury-plagued receiving corps, fell to 6-6. They've never won in six games at Miami.
Patriots 17, Jets 16
East Rutherford, N.J. Adam Vinatieri kicked a 28-yard field goal with 6:29 left, and New England snapped New York's four-game winning streak, tightening the AFC East standings. It was the seventh win in nine games for New England (7-5) since an early-season loss to the Jets (7-4). Miami (8-3) took the division lead by beating Denver. Rallying from a 13-0 halftime deficit, the Patriots won behind the efficiency of quarterback Tom Brady, who picked apart the Jets' soft zone, and a revitalized defense.
Titans 31, Browns 15
Cleveland Steve McNair threw two of his three touchdown passes to Derrick Mason before leaving with an injured elbow, and Tennessee kept its slim postseason hopes alive.
Buccaneers 16, Bengals 13, OT
Cincinnati John Lynch stripped the ball from Corey Dillon and jumped on it at the 3-yard line, setting up Martin Gramatica's 21-yard field in overtime for Tampa Bay. The Buccaneers (6-5) got their first back-to-back wins of the season, but it wasn't easy. They missed two field goals and had a late defensive collapse that let Cincinnati (4-7) rally for 10 points in the last 4:29.
Saints 27, Panthers 23
New Orleans Joe Horn, denied a touchdown in the first quarter when he collided with an official, caught a 17-yard scoring pass from Aaron Brooks with 1:31 remaining, giving New Orleans the victory over Carolina. The Saints (6-5) had to rally despite holding the Panthers (1-11) to 150 yards in offense.
Cowboys 20, Redskins 14
Landover, Md. Emmitt Smith got his first touchdown of the season, Quincy Carter got the first touchdown pass of his career, and the Dallas Cowboys beat the Washington Redskins for the ninth straight time.
Seahawks 13, Chargers 10, OT
Seattle Rian Lindell, who missed twice in the final five minutes of regulation, hit a 24-yard field goal with 8:37 left in overtime to lift the Seattle Seahawks over the San Diego Chargers.
49ers 35, Bills 0
San Francisco Garrison Hearst ran for 124 yards and a touchdown, and Ahmed Plummer had two of San Francisco's four interceptions to lead the 49ers to their first shutout of the season.
Copyright 2018 The Associated Press. All rights reserved. This material may not be published, broadcast, rewritten or redistributed. We strive to uphold our values for every story published.