San Jose, Calif. — Never mind that Sean Walton already owns 150 movies on videotape. The movie enthusiast is quickly building a new collection this time, on DVD.
It's been only a month since the Redwood City man invested $170 in a DVD player, and he already owns 25 DVD movies.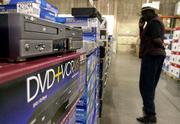 "I love the extra stuff they throw in that you don't get on video," Walton said, clutching three DVDs on his way out of a movie rental store.
Americans are making the DVD player "the fastest-growing consumer electronic product of all time," according to the Consumer Electronics Assn.
In its history of barely five years, DVD players are already on the cusp of penetrating a third of American households a feat that took the VCR twice as long to achieve.
Monthly shipments of DVD players surpassed those of VCRs for the first time in September, and repeated the feat in October as stores stocked up for holiday shoppers. VCRs remain big sellers in other months, however, so yearly sales of DVD players aren't expected to surpass VCRs until 2004.
"It is a phenomenon, and it proves that picture and sound quality do count," said Jim Barry, a spokesman for the electronics association, which says DVD players top its survey of most-desired consumer electronics this holiday season.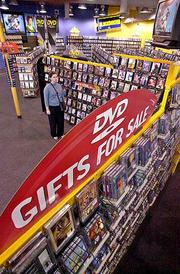 Packed with extras
DVD, which stands for digital versatile disc, offers twice the resolution of standard VHS and features six channels of audio, allowing for a surround-sound effect. DVDs let users quickly jump between movie "chapters" and are packed with extra features including trailers, alternative movie endings even games you can play on a computer.
Blockbuster recently cleared 25 percent of its dust-gathering VHS tapes at all of its stores to make more room for DVD rentals, doubling the number of DVDs at some stores from 2,000 to 4,000.
DVDs account for 20 percent of Blockbuster's domestic rental revenues and the company expects it to grow to 40 percent by the end of 2002.
Annual shipments of DVD players quadrupled to 4 million in 1999 then doubled to 8 million in 2000, outpacing industry observers' expectations. They are expected to reach 12.5 million units this year, the electronics association says.
By comparison, VCR shipments peaked at 23 million last year and are expected to decline to about 22 million units this year.
The closest product to rival the DVD player's steep adoption rate would be the black-and-white television in the years after World War II, Barry said.
Does this mean VCRs will soon be obsolete?
Not immediately.
"VCRS are not going away soon the prices are so low and most of us still have libraries of tapes of the kid's first step, the wedding, the graduation," Barry said.
And as long as DVD recorders remain out of reach for the average consumer the handful of DVD recorders available today cost about $1,000 or more analysts expect many households will continue to hold on to their VCRs to record television programming, even if they never did figure out the blinking LCD display.
"There are 90 million VCR players out there and there are things like Barney tapes that are not on DVD," Green said. "I think there's room for both."
Fueling the boom
Hollywood now releases most films in both DVD and VHS formats for consumer rentals and purchases, said Greg Durken, analyst with the industry research firm Alexander & Associates.
Revenue from nationwide purchases of movie DVDs will reach $4.2 billion by the end of 2001, up from $1.8 billion in 2000, Durken said. Revenue from VHS purchases, by comparison, is expected to drop to $6.93 billion in 2001 from $7.62 billion in 2000.
Rental sales for VHS tapes are similarly expected to drop to $10.7 billion in 2001 from $11.6 billion in 2000, while DVD rental revenues are expected to reach $2.14 billion in 2001, up from $782 million in 2000, Durken said.
High-end DVD players with superior audio can run in the thousands of dollars. But DVD players are easily found for under $150 at places like Circuit City or Costco, where DVD options now outnumber VCRs.
Affordability helped fuel the boom. DVD players quickly fell in price, unlike VCRs playing VHS tapes, which debuted in 1978 at prices above $1,000 and took two decades before selling below $100.
Game consoles, such as the Sony Playstation2 and Microsoft's Xbox, also play DVDs.
It's only a matter of time, analysts predict, before DVDs take over home theater libraries.
"You're getting more bang for your buck, and they're like collectibles," said Durken, the analyst. "They're cool. They're shiny. It's like Pokemon cards for the masses."
Copyright 2018 The Associated Press. All rights reserved. This material may not be published, broadcast, rewritten or redistributed. We strive to uphold our values for every story published.