Even though turkey leftovers still are being served in ingenious ways, many people are turning their thoughts to holiday decorating. Boxes of decorations are hauled down from the attic or up from the basement and plopped on the living room floor. The question then becomes "Where do we begin?"
First, think about what you want to decorate. Living or family rooms, mantels, staircases, tables, windowsills, front doors and porches are commonly decorated for the season. Other rooms are sometimes decorated as well, such as kitchens, guest bathrooms, dining rooms or even bedrooms.
Once you know where you will decorate, plan how you will adorn those places. Garland, wreaths, greenery, ribbons, ornaments, lights and, of course, Christmas trees often make up the decorations.
Trees come in all shapes and sizes, both natural and artificial. So don't limit yourself to one tall tree in the living room.
"It is not uncommon to have two or three trees now," said Carol Aust, manager of the Lawrence Memorial Hospital Gift Shop, which is decked out in holiday finery. Besides a large main tree, smaller ones may be placed anywhere your family or guests can enjoy them perhaps on the kitchen window seat or in an entryway corner.
To make the tree festive, Aust suggests using 100 minilights for every foot of tree. Thus, a 7-foot-tall tree is best decorated with 700 lights.
"It's a very bright tree," she said.
But keep safety at the fore when decorating a tree. Do not use more than three strands of lights plugged together end-to-end. To ease the temptation to string together more light strands than is safe, consider using a device similar to a power strip. Then, each set of lights can have its own outlet.
Instead of draping lights from branch to branch, try something new. Bea Carlson, a volunteer at the hospital gift shop, suggests hiding the wires along the tree branches.
"Start from the bottom up," she said. "Place the wire from the center of the tree out to the end of the branch and back again."
If you want to avoid the hassle of stringing lights, consider investing in a pre-wired or fiber-optic tree.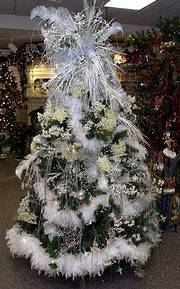 After the lights come the ornaments. Open those boxes and begin to hang the treasured hand-me-down ornaments, the cherished angels or clay handprints your child made in kindergarten and the glitzy store-bought ones.
"Do all different sizes of ornaments," Aust said. "It is more pleasant if there are a variety of sizes."
If you want to add to your collection of purchased ornaments, Carlson suggests getting more rather than less.
"If you are going to buy decorations, you need enough to make a statement," she said.
Aust agrees. "Two won't do," she said. "They won't even show up on your tree."
However, don't think that you have to splurge this year. Instead, gradually build your collection by buying a few ornaments each year.
Aust also suggests creating a "theme" tree for a change of pace.
"They are very popular," she said. Some theme trees she has created in the gift shop are gingerbread people and a big gingerbread house, an all-white tree, a topsy-turvy upside-down tree and a stately gold tree.
"When people think of decorating for the holidays, they need to incorporate their own treasures," Aust said.
She recommends making family heirlooms, pictures, mementos, favorite paintings or a family toy as decorating focal points.
For example, place a strand of greenery with a few tiny bows among a grouping of cherished family photos.
After the decorating is done, sit back and enjoy it. You have a few weeks until the Christmas turkey is served.
---
Carol Boncella is education coordinator at Lawrence Memorial Hospital and home and garden writer for the Journal-World.
Copyright 2018 The Lawrence Journal-World. All rights reserved. This material may not be published, broadcast, rewritten or redistributed. We strive to uphold our values for every story published.