It used to be that Sara Wentz had to take a Valium before she'd get on a plane, her fear of flying was so bad.
"It was panic time for me," said Wentz, 41. "I was just a basket case."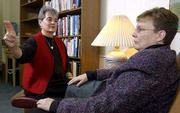 In the days leading up to taking a flight, the Lawrence woman would experience panic attacks, nervousness and interrupted sleep.
Then she tried a type of therapy called Eye Movement Desensitization and Reprocessing with Judy Dutton, a local psychotherapist.
After four or five 90-minute sessions with Dutton over two months, Wentz's disabling fears were cured and the tranquilizers were history.
"I no longer have the panic attacks before I go on a plane," she said. "I'm not anxious. I don't have that gut reaction of being so nervous."
For Wentz and other people throughout the world the eye movement therapy is proving to be a rapid and successful way of overcoming phobias, grief, anxiety-related disorders and severe trauma.
Dutton, a psychotherapist for 21 years, uses the therapy with about 75 percent of her patients.
"It's a new, fairly revolutionary type of therapy that activates the body's own adaptive healing resources," Dutton said. "It combines components of other kinds of therapies, and it has proven to be the most effective treatment for (Post-Traumatic Stress Disorder)."
The therapy has helped more than 1 million people worldwide who have survived trauma such as sexual abuse, domestic violence, combat and crime, according to the EMDR Institute of Pacific Grove, Calif., which trains clinicians in the technique.
Francine Shapiro, who created the eye movement therapy in 1985, is a licensed psychologist and a senior research fellow at the Mental Research Institute in Palo Alto, Calif. Shapiro is also the director of the EMDR Institute.
Overcoming bad memories
Eye Movement Desensitization and Reprocessing integrates principles of neuroscience with elements of therapy.
It assists the healthy processing of emotions by using visual and audio stimulation to help patients talk about painful or terrifying memories.
It looks simple.
A patient recalls memories of a traumatic event while watching a therapist's fingers move back and forth, or while listening to repetitive sounds in a headset.
It can look like hypnotism, but it's not the same. The patient is wide awake and fully alert during treatment.
The therapy triggers involuntary eye movements, which some experts believe results in accelerated information processing by activating both brain hemispheres.
How it actually works to help patients is a mystery.
One popular theory is that the therapy forces the same type of rapid eye movements that occur during sleep. And the function of those eye movements is to process emotion.
Eye Movement Desensitization and Reprocessing does work often quickly.
A study done by researchers in Honolulu indicated that after 12 therapy sessions, many Vietnam veterans had no remaining Post-Traumatic Stress Disorder symptoms.
Eight other studies by various researchers have shown that the therapy is effective with 80 percent to 100 percent of civilian trauma victims in one to five sessions.
Dutton, one of a handful of Lawrence mental health professionals who offer the therapy, is a believer.
"It is phenomenal," she said. "I'll see change really rapidly in a lot of them."
Dutton offers 50-, 75- and 90-minute sessions, with charges ranging from $85 to $153. Insurance companies offer varying amounts of coverage for the therapy.
Breaking old patterns
Sharon Graham is another person who has benefited from Eye Movement Desensitization and Reprocessing. She worked with a health professional outside of Lawrence.
"My experience is that it's been a very useful tool, especially the rapidity with which it works," said Graham, an associate dean at Kansas University's Continuing Education division. "It can enable you to communicate better with the people who are in your life."
For Graham, the therapy offered a way to move beyond old, limiting patterns of behavior. She's now an advocate.
"If anyone has ever gone through any kind of psychological counseling, it's a process I think can take a long period of time," she said. "But (Eye Movement Desensitization and Reprocessing) appears to be able to take certain issues and process the information in a different way, so that in a session or two, you can have a tremendous amount of progress."
Copyright 2018 The Lawrence Journal-World. All rights reserved. This material may not be published, broadcast, rewritten or redistributed. We strive to uphold our values for every story published.