Another page is turning in downtown's 147-year history book, and Lawrence merchant Pat Kehde is among those wondering how the story will end.
This time the protagonist is Starbucks Coffee, the world's largest chain of coffee stores.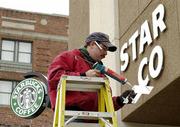 The setting is 647 Mass., which opened this latest chapter of corporate involvement a few years ago with a Gap store that ushered in a rush of new chains to the central business district.
The latest climax comes the week of Dec. 10, when Starbucks will start brewing its Breakfast Blend, Espresso Roast and Cafferona in a district already percolating with more than a half dozen independent coffeehouses.
It's a story that's been written throughout the world with the opening of each new Starbucks the latest adding to the current lineup of 4,943 but for this independent college town struggling with burgeoning growth, it strikes especially deep.
Kehde, for one, doesn't want her community to lose its element of surprise.
"We could end up looking like the Country Club Plaza, where there are no locally owned, indigenous shops," said Kehde, co-owner of The Raven Bookstore, an independent bookseller around the corner from Starbucks and Borders Books, Music and Cafwhich opened five years ago.
"Massachusetts Street is becoming no different than 47th and Nichols. It looks no different," Kehde said. "The same stores are everywhere, and what fun is that? That's not fun. If every place has the same chains, what fun is it to go somewhere? It's the same as the place you just left."
But, like in any business story, Starbucks wouldn't be moving in if it didn't expect commercial success. Judging by the Seattle-based company's booming growth plans and $2.65 billion in annual sales for the fiscal year ended Sept. 30, up 22 percent from a year earlier customers are thirsty.
"We have received numerous requests for a Starbucks location in Lawrence, and we are excited about becoming a part of the community," said Dennis Brockman, Starbucks district manager.
Todd Harvey won't argue. The electrician has spent about four weeks in town wiring the new Starbucks, but his work had slowed considerably Friday a day after the new "Starbucks Coffee" signs went up outside.
"Everybody's asking about it: 'Are you open?' 'Are you open?' 'When will it open?' I've been stopped six or seven times today," he said, during yet another interruption outside the caf"It's kind of wild, really. People are ready for it everybody's ready for it."
Even during this period of economic downturn, downtown's real estate market appears to be willing to welcome businesses of Starbucks' stature and power. Sharing space on the same side of the 600 block of Massachusetts Street already are Gap, Abercrombie & Fitch, Eddie Bauer and American Eagle Outfitters; M&M; Office Supply and Waxman Candles are the only remaining
Copyright 2018 The Lawrence Journal-World. All rights reserved. This material may not be published, broadcast, rewritten or redistributed. We strive to uphold our values for every story published.