Decatur, Ga. — A former sheriff was arrested Friday in the assassination last December of his successor, who was gunned down in his driveway before he could make good on a campaign promise to clean up corruption.
Sidney Dorsey and two other men were arrested before dawn and charged with murder in the slaying of Sheriff-elect Derwin Brown, who was ambushed and shot 11 times, days before he was to be sworn in.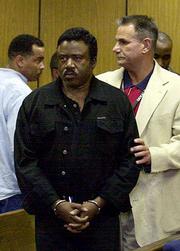 Brown had defeated Dorsey in a bitter runoff election by promising to clean house at the DeKalb County Sheriff's Department, which has had a reputation for corruption for decades. Days before the shooting, Brown had vowed to fire 38 of Dorsey's deputies.
Dorsey had come under suspicion immediately but remained free for 11 months as the investigation stalled. Prosecutors did not get their break until this week, when a former deputy struck a plea bargain over an unrelated shootout in March and apparently began cooperating with investigators.
Dorsey had repeatedly denied involvement in Brown's killing. In a TV interview days after the killing, he said those responsible "should be prosecuted to the fullest extent of the law. And I mean capital punishment."
Prosecutors gave no indication Friday of whether they intend to seek the death penalty.
Also charged Friday were Melvin D. Walker, a former sheriff's deputy, and David Isaiah Ramsey, who earlier this year was denied a job as a deputy for falsifying his employment history. The three men were the first suspects charged in the slaying.
Prosecutors would not say whether the three were among the gunmen, and they would not otherwise comment on what role each man is alleged to have played in the slaying.
Brown's associates said they had warned him that his defiant stand against corruption might put him in danger.
"That's why he ran to clean up the corruption," said Harry Ross, Brown's top speechwriter. "Who would have known that it would have cost him his life?"
Dorsey, 61, and Walker, 37, appeared in court Friday afternoon, and a hearing for the two was set for Dec. 18. Attorneys for both men declared their clients were innocent. The two men and Ramsey, 29, were being held at unidentified metropolitan Atlanta jails.
Dist. Atty. J. Tom Morgan said he had learned about two weeks ago that he, too, was a target of the team that planned Brown's murder.
Outside the courtroom, Brown's widow, Phyllis Brown, shook and struggled to maintain composure as she expressed relief over the arrests.
"I'm hoping that it's over," she said. "I still have just one question to ask. All I want to know is why."
Copyright 2018 The Associated Press. All rights reserved. This material may not be published, broadcast, rewritten or redistributed. We strive to uphold our values for every story published.