Fort Riley — When it comes to disarming a bomb, there's more to it than just snipping a red wire a whole lot more.
Just ask those at the 774th Ordnance Company (EOD), quietly tucked away in a small corner of this 100,000-acre Army post.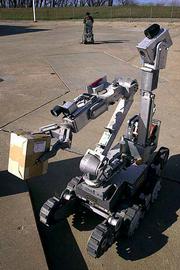 What sets the 774th apart is the designation of EOD Explosive Ordnance Disposal. For civilians, that's "bomb squad" skilled soldiers capable of disarming anything from a firecracker to a nuclear bomb.
Not some Hollywood happy-go-lucky wire snippers leaving it up to chance in the heart-stopping climax of the final reel.
"Actually, it's pretty safe because of the professionalism and technical expertise of the soldiers involved. It's not as unsafe as it might seem," said Capt. Stephen Elder, the 774th's commander.
When it comes to risks, Elder, Cape Girardeau, Mo., is philosophical and pragmatic.
"Walking out this door is a calculated risk," he said. "We know what our limitations are. We do certain things to reduce those risks. The whole idea is to mitigate risks."
Elder won't talk about specifics of the job, including how many people are under his command, and said he likes to do his work out of the glare of the spotlight.
As he sees it, if those making bombs know how the experts disarm them, it would make things a lot more difficult all the way around.
The equipment used to disarm bombs ranges from something as simple as a piece of rope to a state-of-the-art robot named Andy.
Andy moves on treads like a small tank and is filled with all sorts of gadgets including an arm with a claw hand, cameras and searchlight.
From a safe distance, a soldier operates Andy from a console, watching its every move, whether it's going through a doorway or climbing stairs.
"If we can do things safely with the robot without adding to a bad situation, then you do it," Elder said.
The company's coverage area includes Kansas, South Dakota and Nebraska and the Kansas City metropolitan area. Its members are ready to go at a moment's notice when summoned by law enforcement.
For two weeks after Sept. 11, the company had around 10 calls, about a 200 percent increase over the same time last year. Since then, the number of calls have tapered off.
"Everybody's level of awareness went up after that," Elder said. "A lot of things not normally considered a suspect package people would say, 'Hey this could be something."'
Like in Concordia, where somebody last month drove off and left a leather briefcase in the parking lot of a convenience store. City officials summoned the EOD squad.
Mosher said the soldiers determined the briefcase contained nothing more lethal than a bunch of papers.
The deputy chief had nothing but praise for those the EOD company.
"The work we do going into burning buildings I couldn't even compare to what they do," Mosher said. "I don't think I could do what they do. That takes a lot of guts to do that."
Elder downplays the idea that his group is elite or special, but standards for the job are high. When Elder started the nine-month EOD training course, there were 27 in his class. He was among three to graduate.
In a normal year, the company gets around 200 calls, but most are false alarms. But false alarms don't bother Elder.
"It's always better to be safe than sorry," he said. "More often than not it turns out to be no explosive hazard when improvised ordnance is involved."
Copyright 2018 The Associated Press. All rights reserved. This material may not be published, broadcast, rewritten or redistributed. We strive to uphold our values for every story published.