Kabul, Afghanistan — Anti-Taliban tribesmen said they seized tanks and heavy weapons Friday from Taliban militiamen who gave up without a fight near the airport outside Kandahar. An American general said the battle will go on until the Taliban stronghold is a "free city."
American troops raised a New York City flag over their base some 70 miles from Kandahar to honor the victims of the Sept. 11 attack on the World Trade Center. The orange-white-and-blue flag, given to the troops by city firefighters, flew beneath the American flag on a bamboo pole.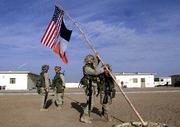 Ethnic Pashtun fighters loyal to tribal leader Kamel Uddin claimed they captured five Taliban tanks, four pickup trucks, one anti-aircraft gun and a multiple rocket launcher at a Taliban checkpoint near Kandahar's airport. The Pashtun are Afghanistan's largest ethnic group; many Taliban are Pashtun. Kandahar is the Taliban's last major stronghold.
An aide to Uddin, Abdul Jabbar, said in Pakistan that 80 Taliban fighters at the checkpoint gave up without firing a shot after they were surrounded and ordered to surrender.
With the control of the Taliban who once held 90 percent of Afghanistan reduced to an area around Kandahar, U.S. Defense Secretary Donald Rumsfeld warned that the situation could be getting more dangerous for U.S. troops.
"Ironically ... as the size of the Taliban real estate diminishes, the danger to coalition forces may actually be increasing," Rumsfeld said at the Pentagon. That is largely because shifting allegiances and growing chaos make it hard to distinguish friend from foe.
Still, Marine Corps Gen. Peter Pace, vice chairman of the Joint Chiefs of Staff, said "this fight will continue until Kandahar is, in fact, a free city, as is the rest of Afghanistan."
Reports of fighting in the south could not be independently verified because the Taliban refuse to allow Western reporters into their territory.
However, taxi and bus drivers arriving in the capital, Kabul, from Kandahar confirmed fighting in the 1 1/2-mile strip between the airport and the Kandahar city limits.
"That area is a no-man's land," said taxi driver Pacha. "There is fighting. We can't go there."
Pace acknowledged that tribal and Taliban officials were negotiating the surrender of the city. But Rumsfeld underlined that the United States would not accept any deal that gives the Taliban supreme leader Mullah Mohammed Omar amnesty or safe passage.
A former Kandahar governor, Gul Agha, who was forced from power by the Taliban in the 1990s, had a force of about 3,000 fighters moving on Kandahar from the south and southeast in alliance with Uddin, Jabbar said.
At the same time, another tribal group led by Hamid Karzai is moving on Kandahar from the north, according to Karzai's brother Ahmed in Quetta, Pakistan. However, Karzai's forces are believed to be more than 60 miles north of the city.
Ahmed Karzai said his brother had hoped to convince Mullah Omar to abandon Kandahar and spare the city a bloody showdown.
"Negotiations alone are not going to work," he said. "So we have to put pressure on them."
It was far from certain, however, that Kandahar will fall quickly.
One tribal figure, Mohammed Anwar, said 300 Arab fighters loyal to suspected terrorist Osama bin Laden were pushing north in an attempt to attack Agha's forces from the rear. The Arabs were moving along the main road from Spinboldak to the village of Takhta Pul, about 25 miles southwest of Kandahar.
In radio messages, Omar has appealed repeatedly for his fighters to defend Kandahar, where the Islamic movement was organized in the early 1990s. The Taliban seized power in 1996 after driving factions that now make up the northern alliance from Kabul.
U.S. jets, meanwhile, stepped up airstrikes against Taliban positions around the airport early Friday, according to travelers reaching Pakistan. They said targets included the city's Baba Sahib district, where Omar maintains a residence.
President Bush launched military operations against Afghanistan on Oct. 7 after the Taliban refused to hand over bin Laden, prime suspect in the September terrorist attacks in the United States.
In other developments:
Japan's Parliament approved the deployment of 1,200 sailors on a mission to provide noncombat support for the U.S.-led campaign.
A U.N. spokesman said Iran has broken a promise and forcibly deported several thousand of the estimated 2 million Afghan refugees there in recent days. Yusuf Hassan said Pakistan also has forcibly sent about 300 refugees back to Afghanistan recently.
Russia announced plans to open a hospital and a center for coordinating humanitarian aid today in Kabul.
Copyright 2018 The Associated Press. All rights reserved. This material may not be published, broadcast, rewritten or redistributed. We strive to uphold our values for every story published.