Overland Park — Lawrence High will have to wait a couple of days to kick off its football season.
Lightning Thursday night forced the postponement of the LHS-Shawnee Mission East football contest at Shawnee Mission South District Stadium. The game has been rescheduled for 11 a.m. Saturday at SM South.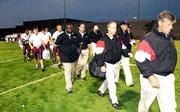 It marked the second time in two years in which the Lions had a game postponed because of lightning. Last year's LHS-Kansas City Washington contest in Kansas City was postponed a day in mid-September because of severe weather.
"You have to be so careful," LHS coach Dirk Wedd said. "You're putting 16- and 17-year-old kids in harm's way. That's not what it's about. There will be another day. There're 60 teen-agers in that lockerroom disappointed right now and a senior class of 25 or 30 that think it's the end of the world because they've been counting on this for 365 days."
With lightning in the area around 6 p.m. Thursday, LHS never took the field to warm up and remained huddled in the SM South locker room. SM East officials announced at 6:15 that the game, scheduled to start at 7 p.m., would be pushed back to 7:30 or possibly 8. At 7:30, shortly after another lightning display, the public address announcer informed the sparse crowd that the game had been postponed.
"That last bolt of lightning did us in," Wedd said.
Because of the rain and Saturday's makeup, today's junior varsity contest between LHS and SM East at Lawrence has been cancelled.
"We'll have to prepare them and get them ready for Saturday morning," Wedd said. "We'll have a good practice tomorrow (today) and breakfast Saturday morning, get on the bus and come over here and hopefully win a football game."
Despite rain and lightning, Thursday night's other Sunflower League contest was played. Shawnee Mission North and Olathe North kicked off at 8 p.m. at SM North after a one-hour delay. SM North's stadium is five miles north of SM South.
Field conditions on Saturday at SM South could be sloppy. Leavenworth and SM Northwest are scheduled to play there at 7 tonight.
LHS, 6-4 last season, has won 13 in a row over SM East. The Lancers finished 3-6 last fall, including a 21-7 loss to the Lions.
l
Marsh sidelined: LHS senior Cameron Marsh, entering his third season as a starter, did not suit up for Thursday's contest because of a knee injury. Marsh, a 6-foot-2, 243-pound offensive guard/defensive tackle, said he would be sidelined for two weeks.
| | | |
| --- | --- | --- |
| | | |
| | When: 11 a.m. Saturday.Where: SM South District Stadium.Radio: KLWN 1320 AM.TV: None. | |
| | | |
Copyright 2018 The Lawrence Journal-World. All rights reserved. This material may not be published, broadcast, rewritten or redistributed. We strive to uphold our values for every story published.