Mainline Protestant churches in America have a serious problem.
The Rev. Peter Luckey thinks and hopes he might have an answer. He's watched with alarm as the number of young people entering seminary, bound for careers as church pastors, has dwindled in recent years.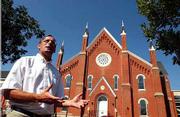 Rather than continue to simply witness the ebb of young talent from the ministry, Luckey is trying to do something to reverse that trend.
Luckey, senior pastor of Plymouth Congregational Church, 925 Vt., is completing work on a three-month, $12,000 study grant from the Louisville Institute given to 40 pastoral leaders throughout the country. The institute is a Lilly Endowment Program for the Study of American Religion, based at the Louisville (Ky.) Seminary.
During a sabbatical from Plymouth Church that will end Sept. 23, Luckey studied the reasons why fewer young people are becoming pastors and came up with ideas to turn this problem around.
By the end of this year, Luckey will submit a report on his conclusions to the institute. He also hopes to publish the findings of his grant, called "Mentoring for Ministry."
On Sept. 9-10, as part of his grant, Luckey will lead a retreat of five United Church of Christ pastors serving large congregations to discuss the themes of his project and ways they can put his ideas into practice in coming years.
The declining number of young people entering seminary is a national crisis for mainline Protestant churches, but the problem lies at the congregational level, according to Luckey.
"It's not that young people aren't idealistic anymore," he said. "They want to change the world. They just don't think being pastor of a local church is the way to do it."
Luckey, 48, has been a United Church of Christ pastor for 20 years. He has served at Plymouth the past six years.
Tarnished image
There are several reasons why fewer young people are choosing to enter seminary and become pastors these days. Luckey found some answers by interviewing ministers in their 20s who are recent seminary graduates.
One reason they mentioned is that the job of being a pastor is perceived as a low-status career in American culture. The pay is relatively low, the hours are long and there are no free weekends.
Another reason behind the drop, Luckey found, is that the image of pastors has been tarnished by recent images of televangelists looking for money, instances of sexual misconduct reported in the media and accounts of turmoil and discord within congregations.
And the message that many pastors send out to young people isn't serving to attract newcomers. They see pastors struggling with stress, burnout, church politics and a lack of personal or family time.
It isn't exactly an advertisement for the joys of pastoral life.
"There's a real issue of clergy morale, which is low in some places," Luckey said.
"Some pastors are feeling beleaguered and like we're not in a place where we would want to encourage young people to go into the ministry."
Traditionally, churches at the local level have been the incubators for future pastors, identifying and recruiting young people who might have a talent for ministry.
But these days, that connection isn't working the way it used to.
"The pipeline for new ministers is the local church," Luckey said. "That pipeline is broken."
Life of service
Through his studies, Luckey identified several actions that pastors can take to attract more young people into the ministry.
In the home congregations of young people who eventually went to seminary, Luckey found, the pastoral ministry was held in high regard.
The young people in those churches were treated as important to the congregation, given leadership roles and offered the opportunity to take on real responsibility.
Those who showed a fledgling talent for ministry were identified and their interest nurtured by their pastors, who provided guidance and mentoring.
The young ministers also shared a defining moment that, for them, sealed their decision to pursue a career in ministry.
Luckey called this a "catalytic experience" like a mission trip to Haiti to work for Habitat for Humanity, or a religious retreat something that awakens in young people "this sense that God is moving in their lives."
One key step that churches can take to encourage young people to consider the ministry is to revive a discussion of vocation or calling from God.
Churches are the places where young people must receive support as they struggle with questions of meaning and purpose, Luckey said.
"Are they taking seriously the idea of service, giving their lives to others, as opposed to making the big salary?" Luckey asked. "If we don't have that conversation with young people, our society will lose a tremendous resource."
Copyright 2018 The Lawrence Journal-World. All rights reserved. This material may not be published, broadcast, rewritten or redistributed. We strive to uphold our values for every story published.