St. Petersburg, Fla. — The Mariners are making history on the road this year.
Freddy Garcia became Seattle's second 15-game winner and Bret Boone drove in three runs as the Mariners beat Tampa Bay, 4-0, Thursday and set a major league record for road play.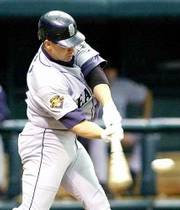 Seattle has not lost in 27 consecutive regular-season road series since a 2-1 series loss at Detroit from Aug. 22-24 last year. The previous mark of 26 road series in a row without a loss was set by the 1906-07 Chicago Cubs.
"It's impressive," Seattle manager Lou Piniella said. "I think we're feeding off it a little bit, knowing that we have it."
Seattle is 51-18 away from Safeco Field, and is four victories short of tying the 1971 Oakland Athletics for the most road wins by an AL team. The major league record is 60, set by the 1906 Cubs.
"Everyone has been waiting all year for us to hit a lull, and we won't do it," Boone said. "This team just finds a way. It finds a way everyday. I've never been on a team like this. I'm just enjoying it."
Seattle is 20-8 in August, its third month this year with 20 or more wins. The Mariners are a franchise-best 58-games over .500 for the second time this season.
"Seasons like this, from a team standpoint, you may never see another one," Boone said. "I may never play again on a team close to what we're doing. Our focus is to finish the season, and then it's going to get tough again in the postseason."
Tampa Bay (48-86) became the first team in the major leagues eliminated from playoff contention.
"We were eliminated in April," said Devil Rays manager Hal McRae, 44-76 since replacing Larry Rothschild on April 18.
Garcia (15-5) allowed eight hits in 62*3 shutout innings and joined teammate Jamie Moyer (16-5) in winning at least 15 games. He struck out six, including five with runners in scoring position.
Boone also had three RBIs, including a two-run homer, in the Mariners' 5-2 win Wednesday.
Seattle, which recorded its league-leading ninth shutout of the season, went ahead 2-0 on Boone's 31st homer, a two-run homer in the fourth off Ryan Rupe (5-11). The home-run total is one shy of the AL record for second basemen, set by Joe Gordon in 1948.
Boone, who has 118 RBIs, added a run-scoring single in the eighth inning. He has driven in the most runs by an AL second baseman since Bobby Doerr's 120 in 1950.
Athletics 15, Orioles 0
Baltimore Eric Chavez hit two homers, including a grand slam, and drove in a career-high eight runs as Oakland pounded Baltimore to cap a three-game sweep. Chavez hit a three-run homer in the first inning, a run-scoring grounder in the fifth and his first career grand slam in a six-run eighth. He has 22 home runs this season, including three in the last two games.
The A's fifth straight victory, combined with Boston's 3-1 loss to Cleveland, put Oakland six games ahead of the Red Sox in the AL wild card race.
Barry Zito (11-8) allowed five hits, struck out three and walked three in six innings. The left-hander is 5-1 with a 1.02 ERA in August.
Yankees 5, Blue Jays 4, 11 innings
New York Bernie Williams hit a sacrifice fly in the 11th inning to give New York a win over Toronto. The Yankees won for just the fifth time in 12 games and took a series against a team other than last-place Tampa Bay for the first time since sweeping Toronto from July 27-29.
Enrique Wilson, who homered in New York's three-run seventh, led off the 11th by singling off Scott Eyre (0-1).
Indians 3, Red Sox 1
Cleveland Roberto Alomar hit a two-run homer and threw out a runner at third, helping Bartolo Colon and Cleveland complete a three-game sweep. Alomar, rarely mentioned as an AL MVP candidate despite having statistics comparable to Seattle's Ichiro Suzuki, homered off Hideo Nomo (11-6) scored twice, walked and made two outstanding defensive plays.
Alomar, whose .340 average is second in the league behind Suzuki's .351, leads the sensational rookie in several offensive categories and has had another Gold Glove season at second base.
Colon (11-10) pitched six innings and was helped by Alomar and Omar Vizquel, who cut down runners on consecutive plays in the fourth inning.
Colon, who won for the first time since July 27, three losses and two no-decisions in August after going 4-0 the previous month.
Rangers 5, Twins 1
Minneapolis Rookie Aaron Myette allowed three hits in seven innings as Texas beat Minnesota. Myette (3-2), a rookie who replaced the injured Kenny Rogers in Texas' rotation July 28, struck out a career high eight batters in his best start.
Rafael Palmeiro laced a first-inning single to center field that scored Frank Catalanotto and Michael Young, giving Texas a 2-0 lead. That was all Myette needed, as the 23-year-old right-hander handcuffed the Twins, who scored 10 runs in a Wednesday victory over the Rangers.
Tigers 3, White Sox 1
Detroit Shane Halter homered and scored twice to help Detroit beat Chicago and stop a four-game losing streak. Rookie Nate Cornejo (3-1) won his third straight start, allowing one run and six hits in seven innings. Danny Patterson pitched the eighth and Matt Anderson finished for his 16th save in 17 chances. Detroit had lost 10 straight to the White Sox.
Copyright 2017 The Associated Press. All rights reserved. This material may not be published, broadcast, rewritten or redistributed. We strive to uphold our values for every story published.