"Don't knock it till you've tried it," advises the motto of Bobo's Buka regarding its African-inspired food. "You might just get hooked!" The problem is, although you might (or might not) get hooked on the food, it's much dicier to predict a growing affinity for the other aspects of this restaurant.
Covering some immense geographical territory by offering Caribbean, Jamaican and African cuisine, as well as "soul food," Bobo's strives for the formidable goal of serving "the best multicultural food in town," but unfortunately stumbles at a more fundamental level: being a truly inviting and serviceable restaurant.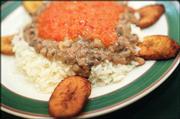 Occupying the old Country Kitchen on 23rd Street, the ethnicity of Bobo's clashes with the leftover dr of a restaurant that strived to be American-ly cozy in a pastel sea of floral prints. Still, Bobo's makes an effort, decking out the employees in brightly-colored African garb, placing art objects throughout, and encasing the silverware in napkin rings carved to resemble sub-Saharan mammals.
The single biggest issue at Bobo's is an underlying reticence to share information and spread enthusiasm about the restaurant's food, its preparation and origins, and its accompanying traditions. We were discouraged in our inquiries about ingredients, and on one visit, as we plied our server with questions, the manager appeared with a disapproving look, sending our server scurrying back to pick up an order. Granted, on a second visit this same server was more knowledgeable, and albeit after considerable effort on our part friendly.
A more concrete problem at Bobo's is the absence of a written menu. Instead, five or six daily specials are offered, and even these aren't written down. It's difficult to keep track, particularly with the foreign vocabulary, so you have to be paying close attention when they're read to you. Prying into the no-menu mystery, we got a couple of different stories: One was that the menu (they used to have one) is too extensive for the single cook to manage. (She was reportedly busy training other cooks.) Another explanation, one that we heard more often, is that the restaurant has trouble obtaining some of its ingredients; rather than disappoint people with unavailable items, the cook decided to offer a changing menu based on what was obtainable.
Buka style
It's a lot to get through before you even turn your attention to the food itself, but once you do, it's pretty good. The escovich, a whole red snapper doused in an electrifying relish of onions and peppers, was very tasty, but so hot I could barely eat it. ("I should have warned you," our waiter apologized.) I pleaded for a fork even though I was eating buka style the traditional fingers-only way and managed to get through more of it by some judicious mixing. The accompanying sweet potatoes were yummy, spiced to taste like pumpkin pie.
My companion had the opposite difficulty. Her dodo yeri was comprised of several lightly-sauced mushrooms on a bed of rice, with plantains on the side. Though appealing, it tended toward the bland side, and there was far too much. A better solution would have been to reduce the main portion and add some spice and variety with a side dish.
A similar problem befell the agonyi, a large pita bread topped with black-eyed peas and a "palm oil stew," which is similar to a tomato relish. Although it was flavorful enough, it was too much of the same thing. The beef and chicken patties think "Hot Pockets" were all right; I won't get hooked on them, but they were acceptable for a single night's dinner.
My biggest complaint was that few things came with vegetables or a side dish. And with the limited menu, I found myself in the unusual situation of being in a restaurant where it's difficult to get food.
To drink we tried a bottle of palm juice: this is definitely an acquired taste that I haven't. I found it yeasty and absolutely dreadful, particularly with its $7 price tag. In fact, I thought many of the prices were a little high, although the $6.99 lunch buffet sounded more reasonable and interesting, with selections ranging from fried chicken and corn bread to African mashed potatoes, bitterleaf stew and egusi a stew of goat and smoked fish.
I would not discourage anyone from trying Bobo's as an introduction to African food. But this restaurant makes a mistake in not feeding the curiosity of patrons wanting to savor the whole experience. To that end, I wish the management of this restaurant would do two big things: loosen up their attitude and tighten up their operations. That way, maybe eating there could go beyond a plate of unfamiliar food and an exotic napkin ring, and truly become an adventure in "multicultural" dining.
Copyright 2018 The Lawrence Journal-World. All rights reserved. This material may not be published, broadcast, rewritten or redistributed. We strive to uphold our values for every story published.