Tonganoxie — The owner of two bears, three lions and a silver fox has one message to the public: Stay off his property.
A Lawrence man was bitten Sunday by one of the caged bears, owned by Richard Provance of rural Tonganoxie. On Aug. 19, one of the caged lions bit a woman who lives across the road from Provance.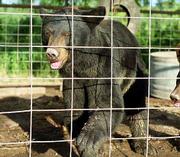 Both incidents, Provance said, occurred while people were trespassing and no one was home at his residence.
"These animals are no different than a Rottweiler or a pit bull or something like that," he said. "The animals that I've got are no threat to nobody. The people that come up here are the threat."
According to the Leavenworth County Sheriff's Department, Pete Cale, 31, Lawrence, was injured about noon Sunday when he stuck his hand in the bear cage to pet Yogi, a 4-year-old female black bear. The bear turned and bit Cale on the inside of his right forearm.
Leavenworth County EMS transported Cale to the Kansas University Medical Center in Kansas City, Kan., where he was treated and released by late afternoon Sunday.
Provance said Cale was his ex-brother-in-law.
Cale could not be reached for comment, and no additional information about the nature of his injury was available late Sunday night.
A week earlier, Provance's neighbor, Misty Allison, 27, was bitten by a lion when she moved too close to the cage, allowing the lion to grab her and maul her forearm.
After being transported by helicopter to the Med Center, she underwent minor surgery and was released.
Leavenworth County Sheriff's Deputy Mark Brown said officials made no attempt to seize the lion.
"The lion was never out of its pen," Brown said. "So we didn't see any reason to move it."
Following the lion bite, Provance said people had been driving by and entering his property to see the animals, which are kept in cages behind his house.
Obscured by weeds, the cages are hard to see from the road, and there are no signs advertising exotic animals.
"I've got so much publicity from these animals now," Provance said, "I just don't want any more."
Provance said he planned to build an 8-foot-tall perimeter fence with a padlock to keep people away from his animals, which he has raised from cubs.
"Stay off my property, or you'll be prosecuted," Provance said. "I'm not saying that in a hateful way, but the last few weeks it's people's stupidity of sticking their arms in the pens. It would be human fault if my bear got destroyed."
Copyright 2018 The Lawrence Journal-World. All rights reserved. This material may not be published, broadcast, rewritten or redistributed. We strive to uphold our values for every story published.