DeSoto — True to its name, the DeSoto Watermelon Festival will have plenty of the juicy summer fruit available this weekend. It also will have a new feature: child sumo wrestling.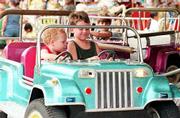 The third annual festival, formerly known as DeSoto Days, features carnival rides, a craft and car show and, of course, melons. It started Thursday.
Max Atwell, festival chairman, said tonight's activities include the carnival, several food booths and sumo wrestling, where children don a "sumo suit."
"Whoever bumps the other person down wins," he said. "It's a new event, so we're trying it out to see if people like it."
The annual parade, with the theme "People are the Heart of DeSoto," kicks off Saturday's events at 10 a.m. near downtown.
J-W Staff ReportsHere's the schedule of events for the remaining days in the annual DeSoto Watermelon Festival:Today6 p.m.-10 p.m.: Carnival, food booths6:30 p.m.-8:30 p.m.: Sumo wrestling for kids8:45 p.m.-10 p.m.: Tim Clarrey and the band Blackfrye, country westernSaturday10 a.m.: Parade starts, downtownFollowing parade, craft and food booths open; car show, Miller Park11 a.m.-12:30 p.m.: Cider Ridge band12:30 p.m.-1:30 p.m.: Wind Wizards exhibit12:30 p.m.: Story time by DeSoto Public Library1:30 p.m.-3 p.m.: Cider Ridge band3 p.m.-4 p.m.: Wind Wizards4 p.m.: Civil War re-enactment (tentatively); stand-up comedian6 p.m.-8 p.m.: Children's bungee game, DJ music provided8 p.m.-11 p.m.: DJ and street dance, parkSunday8 a.m.: All-you-can-eat pancake breakfast. Donation.9:30 a.m.: Interdenominational church service.
After the parade, Atwell said there will be a car show with antique and customized cars and hot rods, and a larger craft show with 40 booths under a tent at Miller Park.
"We should have a lot of craft items for sale this year," he said.
Besides several musical acts, Atwell said a Overland Park group, called the Wind Wizards, will fly kites and do yo-yo tricks.
"They do about everything, from laying down to standing up with the yo-yos," he said.
Saturday's events conclude with a horizontal bungee jumping game for children followed by a street dance at 8 p.m. Carnival tickets will be given as game prizes.
The festival ends Sunday with an all-you-can-eat pancake breakfast and an interdenominational church service.
Atwell estimated about 4,500 people will attend the festival.
"We'll have a pretty nice crowd, if the weather holds out," he said.
Atwell said proceeds from the event help support next year's festival and also may used for park improvements.
Copyright 2018 The Lawrence Journal-World. All rights reserved. This material may not be published, broadcast, rewritten or redistributed. We strive to uphold our values for every story published.