Dwight D. Eisenhower led Allied forces in World War II, but Lawrence sculptor Jim Brothers hopes to capture Ike's humanity in a statue he is making for display at the U.S. Capitol.
Brothers selected a pose of Eisenhower from a famous photograph where the commander was talking with soldiers from the 101st Airborne Division right before the bloody D-Day invasion.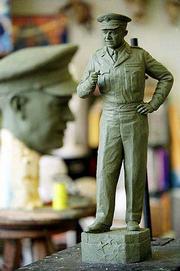 Brothers said he has learned from research that when the photo was snapped, Eisenhower was talking to the soldiers about fly-fishing.
"He was trying to keep it light," Brothers said. The general knew that for the paratroopers there was no escape plan.
"They say he was very human and nice to be around and could cuss like a sailor," Brothers said.
The 7 1/2-foot bronze sculpture of Eisenhower will stand atop a 3-foot base in National Statuary Hall, which is south of the Capitol Rotunda.
In the hall, each state is allowed to contribute two statues of prominent residents.
Kansas is represented by statues of George Washington Glick and John James Ingalls, two prominent figures when Kansas became a state. Glick was later elected governor in 1882, and Ingalls served in the U.S. Senate for 18 years.
State lawmakers have fought for years over whether to replace Glick and Ingalls with more famous Kansans. Last year, the Legislature approved replacing Glick with Eisenhower and Ingalls with aviatrix Amelia Earhart.
No one has been selected yet to do the Earhart statue. The Glick and Ingalls statues will be returned to Kansas, but there are no plans yet where to put them.
Brothers was hired after a national search by The Eisenhower Foundation in Abilene, where Eisenhower was raised. Abilene is home of the Eisenhower presidential library.
Lynda Scheele, executive director of the foundation, said the project will cost between $200,000 and $250,000. The money for the statue are being raised privately.
Scheele said she hopes to have the statue in place by January 2003, the 50th anniversary of Eisenhower's inauguration.
"I think that it's real important to the Eisenhower family. It's an extreme honor for them," Scheele said.
Brothers is no stranger to sculpting World War II heroes. He is the chief sculptor of the National D-Day Memorial recently dedicated in Bedford, Va.
Brothers said he has researched Eisenhower through books, news footage, photographs and in talking with people who knew or met him.
"I try to get to know them well enough to search for their soul," he said of his subjects. Brother said he chose a depiction of Eisenhower at war because, although Ike later served two terms as president, he will always be remembered for his efforts in World War II.
Brothers said he also is doing a 10-foot sculpture of Eisenhower that will be part of the D-Day Memorial.
(Click on controller arrow to play.)If you have trouble viewing this video clip you may have to
download Quicktime
Copyright 2018 The Lawrence Journal-World. All rights reserved. This material may not be published, broadcast, rewritten or redistributed. We strive to uphold our values for every story published.