The Lawrence Journal-World's USA Today production operation has been named the national newspaper's best print site for 2000.
USA Today officials were in Lawrence on Thursday to present the paper's "Top Printsite" award, honoring Journal-World employees who produce copies of the country's most widely read newspaper.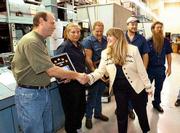 The Journal-World has been printing USA Today on a contract basis since 1984, and this year the site topped 39 other production operations across the country for production quality, consistency and efficiency.
The Lawrence site, 609 N.H., also picked up the "Stars" award for excellence.
"This site is the best of the best," said Ken Kirkhart, vice president of production for USA Today. "Only the best print for us, and these guys are the best of those."
The Top Printsite award is the Journal-World's fourth, Kirkhart said. No other site has won more than twice.
In Lawrence, 22 employees produce copies of the paper. They start by downloading digital page images from a satellite, then transform the images to aluminum plates for placement onto an 18-unit press; finished papers must be out of the mailroom in time to meet strict deadlines.
Contract drivers deliver the news to communities in Kansas and parts of Missouri, Nebraska, Iowa and Oklahoma.
The Lawrence site thrived during a year when USA Today implemented a new direct-to-plate production system, and cut the width of newspaper pages, said Lori Craig, USA Today's director of field operations.
"We threw a lot of hurdles at the sites, and these guys excelled," Craig said. "Their productivity score actually went up 6 points (on a 100-point scale)."
Supervisors responsible for the award-winning departments are Ed Kelly, press; Steve Campbell, direct to plate; Gary Ellison, distribution center; and Steve Meeker, production coordinator.
Dolph C. Simons Jr., editor and publisher of the Journal-World, said he was proud that the USA Today team continued to put out a quality product in the face of increased competition. USA Today had 32 sites four years ago, when the Journal-World last won the top award.
"We have a number of good people who are eager to produce the best paper they can," he said. "I know that they're planning right now to see what they can do to win it again next year."
Copyright 2018 The Lawrence Journal-World. All rights reserved. This material may not be published, broadcast, rewritten or redistributed. We strive to uphold our values for every story published.