JACKSONVILLE, FLA. — Once Jimmy Smith broke the touchdown drought Thursday night, several of his teammates followed suit, and the Jacksonville Jaguars rallied for a 28-23 exhibition victory over the Kansas City Chiefs.
Alvis Whitted caught a 58-yard touchdown with 5:58 left to help the Jaguars (2-1) complete their comeback from a 20-7 deficit. Jacksonville's third-string defense held on two plays from its 1-yard line with 1:30 left.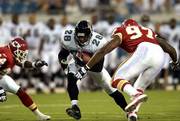 Coming off two abdominal operations this summer, Smith saw his first action of the preseason. He caught five passes for 78 yards. His first catch was the Jaguars' first touchdown of the preseason, giving them a 7-6 lead.
"It felt real good to be out there," Smith said. "There were a lot of people who didn't think I would make it, but I just kept the faith, had a lot of good people around me, and everybody was pulling for me."
Jaguars coach Tom Coughlin said Smith's touchdown played out almost like a movie script. Still, neither that nor the final score glossed over a rough night for Jacksonville's starters.
Trent Green, who came to Kansas City this off-season with new coach Dick Vermeil, threw for 166 yards and a touchdown as the Chiefs dominated the first half.
Green hit former Florida State standout Snoop Minnis for a 7-yard touchdown early in the second quarter. Later, backup quarterback Todd Collins ran the 2-minute drill like Joe Montana, leading the Chiefs (2-1) on a 65-yard touchdown drive against Jacksonville's first-team defense to close the first half.
"This was definitely a satisfying game for us," Chiefs tight end Tony Gonzalez said. "Anytime you can take a lead like we had into halftime, you've got to be happy. And I don't think they did much against our first defense."
Kansas City had a 13-point lead at halftime, after outgaining the Jaguars 258-108 and running 46 plays to 17 for Jacksonville.
"We had a defense that couldn't stop the other team, couldn't get them off the field, and we had an offense that couldn't run the ball," Coughlin said. "Those are not very good signs."
Injured throughout training camp and playing without left tackle Tony Boselli and receiver Keenan McCardell, Jacksonville's starting offense endured a handful of embarrassing moments. Twice, the Chiefs stopped Fred Taylor on third-and-inches; the second time, Kansas City did it with its second-string defense.
Jaguars quarterback Mark Brunell was 10-for-15 for 154 yards, but those numbers were padded by a 71-yard touchdown drive against Kansas City's backup defense to open the third quarter. Damon Jones caught a 12-yard touchdown to close that drive a score so monumental that Jones, Brunell and Sean Dawkins all took turns spiking the ball in celebration.
Backup quarterback Jon Quinn hit R. Jay Soward for a pretty 33-yard touchdown to close the third quarter and pull Jacksonville within 23-21.
Whitted's touchdown was set up by Jaguars safety Marlon McCree, who burst into the backfield and broke up a handoff, causing a fumble. On the next play, Jamie Martin found Whitted on a slant pattern, and the receiver known more for his struggles than his blazing speed in his four years in Jacksonville went untouched into the end zone.
"I only saw one player in the middle of the field," Whitted said. "I thought I would just have to make one player miss and then outrun everyone. That was my strategy going in."
Kansas City held Washington and Chicago without touchdowns in the first two exhibition games. But both those games were at home against quarterbacks without pedigrees. This time, the Chiefs went on the road, held Brunell in check, and only allowed Taylor 27 yards on 13 carries all good signs for a defense being revamped by new coordinator Greg Robinson.
"But you're never satisfied with your play when you give up touchdowns," cornerback Ray Crockett said. "So no, we're not completely happy."
Minnis received extensive playing time and caught six passes for 101 yards. Derrick Alexander caught four passes for 81 yards for the Chiefs and Gonzalez had four catches for 41 yards. Collins finished 13-of-19 for 133 yards.
Jaguars linebacker Kevin Hardy left with a sprained thumb, and cornerback Fernando Bryant left with a sprained shoulder. Chiefs cornerback Pat Dennis sprained his knee.
Copyright 2018 The Associated Press. All rights reserved. This material may not be published, broadcast, rewritten or redistributed. We strive to uphold our values for every story published.