Tuscaloosa, Ala. — Reata Strickland doesn't claim to have a private pipeline to God, and she never intended to speak for The Almighty.
The working mother of two does have a knack for putting together words and photographs on a computer, though, and one of her creations is getting a lot of attention among Internet-savvy Christians.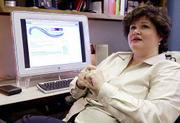 Strickland created "Interview with God," an inspirational, Web-based animation that claimed more than 10 million viewers during its first 2 1/2 months of operation a big number for a homemade religious Web site.
Other people have sites with similar messages, and some use almost the exact same words. No one seems to know who wrote the original text.
But none of the other sites appears to have gotten the kind of traffic Strickland generated after posting "Interview with God" in late May on a Tuscaloosa United Methodist Church site.
That site was quickly overwhelmed with traffic, and Strickland (whose first name is pronounced "Rita") moved the animation to her personal site, www.reata.org. Word spread by e-mail lists, and soon hundreds of thousands of people had visited.
"I just put this out there because I thought it was neat," said Strickland, whose husband does construction work and is a pastor at two small churches.
Strickland's site averages as many as 140,000 hits a weekday about 40 percent more than the official Internet home of the University of Alabama, where Strickland works as a Web site designer.
"It was like a viral marketing thing. It spread all over," said Max Kalehoff of Jupiter Media Metrix, a company that tracks Internet traffic. Reata.org had 2.4 million visitors in June alone, according to the company.
The strength of Strickland's presentation seems to be in the simplicity of its 301-word story and the way the words mesh gracefully with accompanying landscape photographs.
The site, created with Shockwave animation software, consists of an imagined conversation with God. The story begins:
"I dreamed I had an interview with God.
'So you would like to interview me?' God asked.
'If you have the time,' I said.
God smiled.
'My time is eternity.'"
The interviewer goes through a series of questions, and God answers with lessons on youth, life, death, love, wealth, worrying, forgiveness and communication.
The story ends with God saying people must forgive themselves and learn "that I am here always."
Strickland has received hundreds of e-mails from people who said the message touched their souls. One woman wrote that an e-mail link to the site "arrived at the perfect time when I was feeling down and resentful in my world." Another said "Interview with God" brought her to tears.
A Texas oilman who became a contributor to help Strickland pay for computer time said his marriage of 25 years was saved because of a section of the text that talks about hurting others.
"I was blaming my wife and being so pious (thinking) that I had been mistreated," Sam Reeves of Fort Worth said in a telephone interview. "It showed me how I had hurt her with just a few words."
Strickland has since redone the Web site for Reeves' company. She also is selling "Interview with God" screen savers, PowerPoint presentations and T-shirts to help defray the cost of keeping the site running.
"It is just about paying for itself," Strickland said.
A friend gave Strickland the words to "Interview with God" a couple of years ago, but she didn't get around to putting them to computer animation until this summer.
Some people don't understand the site: Several have e-mailed to tell Strickland they talk to God, too, and that she can quote what God told them. Others have questioned why God would give her an interview.
But most of the reaction has been positive, Strickland said. She believes part of the attraction that the site isn't preachy and doesn't quote scripture. It just makes people think.
"There are a lot of people who are turned off by religion but want to know God is with them even though they've screwed up," Strickland said. "All this is just a seed."
Copyright 2018 The Associated Press. All rights reserved. This material may not be published, broadcast, rewritten or redistributed. We strive to uphold our values for every story published.