People dressed in eye-catching outfits, store windows filled with eye-catching merchandise, sidewalks dominated by eye-incarcerating, non-camouflaging, nature-defiant cow sculptures: The kaleidoscopic view of Kansas City seen on the Plaza invites a full spectrum of theories about society.
But you can be above it all. Literally, I mean. From behind a window in the second-story restaurant of Starker's Reserve, you can gaze upon the scene at 47th and Wyandotte, while the formal atmosphere of the restaurant provides a sealed refuge from the current of currency flooding the streets below.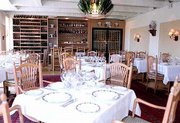 This 29-year-old institution, (four in its present upstairs location), is seemingly loved by everybody, from my dinner companion on up to Wine Spectator, which has consistently bestowed upon it the magazine's "Grand Award."
The restaurant is good. It's got a great feel, and our service was outstanding. With entrselections that include delectables like grilled shark, a veal chop with truffle oil and a sweet corn-encrusted pork tenderloin, the food was fine, too. But at the risk of bringing the wrath of Starker's devotees down upon me, I thought the food was the weakest link.
In part, this is because every other aspect of the restaurant is nearly flawless. It's not that the menu choices aren't interesting, or that there's anything wrong with the cooking. My complaint is more nebulous and will undoubtedly spawn a crowd of dissenters, but here it is: I felt that there was a certain meticulousness, a slight fussiness in preparation, that overshadowed the more elusive achievement of exuberant cooking. Nonetheless, the chef is certainly capable of producing enjoyable dishes that are suited to Starker's overall experience: conventionally, but pleasantly, fancy.
Historic getaway
Starker's devotes much of its space to private dining rooms, named after wine varieties (Chardonnay, Pinot Noir). The public space is just as nice, with delicate furniture and an impressive chandelier constructed from upturned, de-labeled wine bottles. In the hall, wall sconces overflow with cork bouquets, and the beautiful dishes are displayed on a sideboard much as they might be in your grandmother's dining room. The dr is Country French, minus the clutter.
We were greeted by our white-gloved waiter, who seated us and handed us a wine "list" this is a bit of a misnomer, as this notebook was more of a comprehensive almanac indexing well over 1,000 choices. Our server chatted easily about the history of the restaurant, informing us that its name was inspired by one Harry Starker, a zealously roguish Brit from the 15th Century. Mr. Starker reportedly would get drunk and run through the streets naked, hence inspiring such terms as "stark-naked" and "stark-raving mad."
We began with a crab cake appetizer and the curried leek soup. The crab cakes were small and fat, framed in the middle of the plate by a rivulet of remoulade sauce and another of red pepper puree. I preferred the latter of these two; its more robust flavor was not overpowered by the inherently strong taste of crab, while the remoulade seemed almost too delicate to contribute.
The leek soup was excellent, and its presentation earned it bonus points. Arriving in a soup bowl was a pile of chopped nuts, vegetables, and little slivers of smoked trout. Over this the waiter poured a tureen full of thick, creamy broth. This approach worked nicely to preserve the textures and individual flavors of the solid ingredients.
We tried a traditional entr filet mignon. This was served with a cabernet sauvignon sauce and paired with a smoked cheddar potato gratin. I loved the tasty potatoes; the filet also was good, but it didn't dazzle me.
Similarly with the elk loin this was wrapped in bacon, doused with a blueberry reduction sauce and paired with a wild rice pilaf. This combination effectively evoked the idea of having an earthy meal (without being primitive), but again, although I liked it well enough, I felt the emphasis was on the slight unusualness of the ingredients, rather than on the excitement of bringing them together.
A frozen Grand Marnier soufflor two narrowly edged out the chocolate truffle mousse for our dessert choice, and as we waited for it to thaw, we sipped the strong coffee that was individually French-pressed at our table.
The soufflasted like a light sorbet with a lacing of liqueur flavor. It was all right, I suppose, but the huge portion made me wish for something perhaps a small cookie wafer? to break up the textural monotony.
Whether you believe the food is excellent or merely good, however, Starker's delivers a thoroughly elegant evening. When I descended the stairs onto the hot sidewalk of real life, I wished I'd lingered just a few extra moments, for one more unneeded bite of souffland one more sip of coffee.
Copyright 2018 The Lawrence Journal-World. All rights reserved. This material may not be published, broadcast, rewritten or redistributed. We strive to uphold our values for every story published.