Moscow — The United States is prepared to withdraw unilaterally from the 1972 Anti-Ballistic Missile treaty so it can go ahead with missile defense plans if no agreement is reached with Russia on the accord, a senior U.S. diplomat visiting Moscow said Wednesday.
U.S. Undersecretary of State John Bolton said he hoped progress toward an agreement would be made before President Bush and Russian President Vladimir Putin meet in November.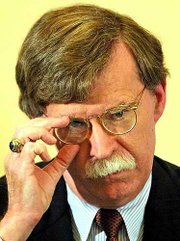 "We remain hopeful that we can talk to the Russians," Bolton said. "If contrary to our hopes and expectations we're not able to move together jointly, we will exercise the express right provided by the ABM treaty to give notice of our withdrawal."
But he said November was not a deadline for an agreement.
Russia is opposed to dismantling the 1972 treaty, which prohibits national missile defense systems. But the United States says it will go ahead with building a missile defense system because of potential nuclear threats from countries such as North Korea and Iran.
The Bush administration has sought to avoid Cold War-style arms control negotiations and proposed that both countries jointly withdraw from the ABM treaty. But the Russian government rejected that approach when it was presented by Defense Secretary Donald H. Rumsfeld in Moscow last week.
"The best way to handle this is mutually moving beyond the treaty together. The (Russians) have not yet agreed to that. We haven't given up on it," Bolton said.
Bolton said the United States would prefer a joint declaration on the accord but would consider a new treaty. "Certainly another treaty is a possibility," he said.
Bolton said the United States was determined not to violate the treaty and therefore that could mean unilaterally withdrawing from the accord long a cornerstone of international security and still considered so by the Russians and many Europeans.
The ABM treaty allows each side to withdraw from it six months after notifying the other side of its intentions. At some stage perhaps next spring or early summer the Pentagon hopes to begin construction of interceptor missile silos at Fort Greely, Alaska.
In Washington, Pentagon spokesman Rear Adm. Craig Quigley acknowledged that the Pentagon's missile defense activities planned for 2002 include some that may violate the treaty. But the administration has not decided if it will avoid the violations by withdrawing or by altering or delaying the banned activities, he said.
Copyright 2018 The Associated Press. All rights reserved. This material may not be published, broadcast, rewritten or redistributed. We strive to uphold our values for every story published.