Classes start today at Lawrence's two universities.
Courses at Haskell Indian Nations University were to have begun Wednesday, but an electrical glitch held up the start of classes a day.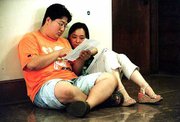 "We had a power surge that knocked out some of our registration computers," said Haskell Registrar Manny King. "We had to call off all our classes."
The problem occurred about 3 p.m. Tuesday and prevented the university from registering many students for classes.
King said the problem was repaired by 6 p.m. Tuesday, allowing Haskell staff to catch up on student registration Wednesday, so classes could start today.
"We're working with the students, and our faculty has been really good about it," he said.
Fall semester classes at Kansas University also start today.
KU spokesman Todd Cohen said official enrollment numbers won't be available for about a month and that the Board of Regents prevents state universities from releasing preliminary enrollment figures.
Last year's fall enrollment was 28,329, up 1.8 percent from 1999, at the Lawrence, Edwards and KU Medical Center campuses. Fall 2000 saw the largest freshman class in KU history, with 4,208 students compared to 3,878 students during fall 1999.
Preliminary numbers show enrollment may be increasing at Haskell and Baker University in Baldwin.
Though enrollment at Haskell continues through Friday, King said 677 students had registered Wednesday. He said he anticipated total enrollment near 900 students, a comparable total to last year. He said it was difficult to increase enrollment much more because of limited faculty and on-campus housing.
"We're about stretched to the limits," he said.
At Baker, where classes begin Monday, university spokesman John Fuller said he thought the College of Arts and Sciences' enrollment may increase 5 to 10 percent this year.
Last fall, there were 2,817 students at all three Baker campuses, including 828 students in Baldwin. The other Baker campuses are in Topeka and Overland Park. Like KU, Baker had a larger freshman class in 2000, up 50 students from fall of 1999.
"Last year was a six-year high, so we'll probably beat that," Fuller said. "It is hard to tell, though."
Baker registration starts 8 a.m. Friday.
Copyright 2018 The Lawrence Journal-World. All rights reserved. This material may not be published, broadcast, rewritten or redistributed. We strive to uphold our values for every story published.