This may be remembered as the summer concertgoers went into sticker shock.
Gross concert ticket revenue is off 12.3 percent for the top 50 tours in North America versus the same period a year ago, says Gary Bongiovanni of Pollstar, a trade magazine that covers the concert business. That translates into 2 million fewer tickets sold this summer. "Ticket buyers vote with their wallets," Bongiovanni says.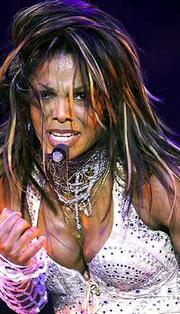 Acts that previously had no trouble filling concert halls and amphitheaters are finding themselves playing to empty seats this summer. Some reviews of Rod Stewart's shows noted that the British rocker was playing to half-empty amphitheaters. Tickets remain not only for the Backstreet Boys' rescheduled September shows at New Jersey's Continental Arena, but also for Janet Jackson's three concerts at Madison Square Garden this week.
Some observers sense a revolt not only against high ticket prices, but against the Internet, TeleCharge, and delivery service fees that can add 25 percent or more to the base price.
Tickets for Jackson's shows at Madison Square Garden, for instance, range from $42.75 to $125.25. That's not the final cost, though. First add a $3 facility fee and a TicketMaster charge that ranges from $6 to $9.50 per ticket. You may also pay between $14.50 and $25 to have UPS deliver the ticket order.
"It's very rare that you're able to buy the ticket at face value," Bongiovanni says.
But TicketMaster spokesman Larry Solters feels the company has been stigmatized for doing its job.
"If there was no TicketMaster, and you lived in Hackensack and you wanted to buy tickets for Janet Jackson, you'd get in your car, drive over the bridge what's that, $6? and wait on line," Solters says. "There would be the expense of going, and the time taken off work."
The surcharge money, Solters points out, goes to pay for the company's labor, technology, research, and development. The $3 facility fee, collected by TicketMaster on credit card payments, goes to Madison Square Garden.
"When computerized ticketing started, it was deemed a tremendous convenience," Solters says. "Then it became a necessity. Now people wonder what the cost of that necessity is."
Not only are TicketMaster and the show venue getting a slice of the pie, but the pie is getting bigger.
Concert prices have more than doubled since 1991, Pollstar reports. Between 1998 and 1999, there was a 30-percent jump in ticket prices.
For Bongiovanni, the watershed year was 1994, when the basic concert pricing model changed. That was the year top acts like Pink Floyd and the Rolling Stones started charging top prices for premium "gold circle" seats, a policy that had previously been confined to the likes of Frank Sinatra.
Top Floyd tickets rose to a then-unheard-of $65; that same year the Eagles became the first rock act to charge more than $100. This year, the top ticket for U2's recent American tour cost $130.
Chalk it up to the graying of both audiences and performers, Bongiovanni says.
"Before that, those acts could not have charged those prices and kept their counterculture credentials," he says.
In the end, Bongiovanni says, it's the artist making up to 80 percent and more of the ticket price who really calls the shots. There's no reason most of them have to take the big money that big promoters dangle in front of them.
"The artists are equally at fault here; they don't have to take the money," Bongiovanni says. "Garth Brooks was probably the top star a year and a half ago, and those tickets were $20. They were $20 because that's what Garth wanted."
Copyright 2018 The Lawrence Journal-World. All rights reserved. This material may not be published, broadcast, rewritten or redistributed. We strive to uphold our values for every story published.