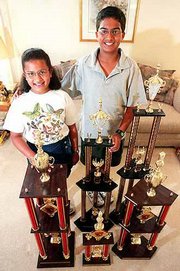 Two young chess wizards from Lawrence recently took honors in a national competition.
Deepyaman Datta, 11, won first place in the 11-and-under age category of the U.S. Junior Chess Championships July 27-29 in Tulsa, Okla.
Deepyaman, a seventh-grader at Southwest Junior High School, won six out of six rounds to finish atop his category.
His sister, Anjali Datta, 9, competed in the same age group, winning five of six rounds to take third place. Anjali is a fifth-grader at Quail Run School.
Deepyaman and Anjali have honed their skills as members of the Quail Run Chess Club. Steve Robinson and Sisca Wolff, parents of Quail Run students, are the club's coaches.
The Dattas say they have also learned a lot about the game of chess by playing with the Lawrence Chess Club on Monday evenings at Borders, 700 N.H.
Their parents are Deepak Datta, a professor in the Kansas University School of Business, and Shraboni Datta.
Copyright 2018 The Lawrence Journal-World. All rights reserved. This material may not be published, broadcast, rewritten or redistributed. We strive to uphold our values for every story published.