Free State High's underclassmen have come a long way in four days.
The Firebird seniors ruled an intrasquad football scrimmage on Saturday. During their annual fall sports jamboree on Wednesday night at Haskell Stadium, Free State's seniors struggled in the first 25 minutes before breaking loose in the second 25 minutes.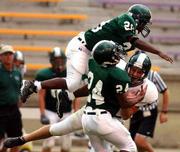 "I think our junior class is a pretty good class," fifth-year Firebird coach Bob Lisher said. "It was tougher now than it was on Saturday for our seniors to control the scrimmage. The juniors had a couple of more days to work out the kinks. The seniors found out our juniors were for real the first 20 minutes."
The seniors took control in the second half as Free State's Green team, the squad's No. 1 unit, beat the White, 13-0.
Senior fullback Walker Douglas, who's receiving recruiting interest from Kansas, Oklahoma and Kansas State, did most of the damage. Douglas had seven carries for 137 yards, including a 60-yard touchdown burst on Free State's second series of the second half.
"We expect that out of Walker," Lisher said of the 6-foot-1, 215-pounder. "When our offensive line gets Walker and our other running backs to linebacker depth, they have to make yards. In the first half we went down cheap a couple of times and the second half we went down harder."
Senior Bobby Blevins scored the Green's other touchdown. He scored on an eight-yard run to cap Green's first series of the second half.
The Green wasted a scoring opportunity in the first half with a fumble in the end zone, which was recovered by White's Joe Sicilian. The fumble came on the 17th play of the drive.
Chris Longino and Matt Berner, battling for Free State's No. 1 quarterback slot, completed a combined three of 21 passes combined for 31 yards. Longino, who quarterbacked the No. 1 offense, completed one of seven passes for nine yards. Berner, running the No. 2 offense, completed two of 14 passes for 22 yards. Cornerback Brandon Jackson intercepted one of Berner's attempts.
Both QBs constantly were pressured. Also, several of their passes were dropped.
"We didn't do a lot of good things in the protection area and I don't think our routes were run all that sharp, and that's something we have to work on," Lisher said. "We'll evaluate film. It's tough to figure who did well from the sideline. The kids get a chance to see from film what they did and correct it."
Free State will open the season on Aug. 31 with a home game against Shawnee Mission West. Kickoff is 7 p.m. at Haskell Stadium.
Copyright 2018 The Lawrence Journal-World. All rights reserved. This material may not be published, broadcast, rewritten or redistributed. We strive to uphold our values for every story published.