Four months ago, I wrote about Casey Beaver. On Aug. 4, 2000, Beaver was struck head-on by a drunken driver and killed. The driver had eight previous driving-while-intoxicated tickets.
The column focused on the tragedy of Beaver's death. He was just about to begin a new chapter of his life, getting ready to attend optometry school. The sports angle was that two of Beaver's best friends from Kansas University, Bobby Nichols and Dave Dearth, were going to ride their bicycles across America in his honor and to raise awareness about drunken driving.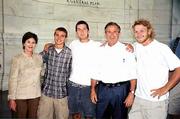 As a columnist, I usually have the pleasure of writing about topics that are less-than-serious. While some of us think sports are a matter of life and death, the truth is that the sun always comes up the next morning, even after the Jayhawks get bumped by the Arizona Wildcats. For Beaver, the sun did not come up again. It was my first time devoting an entire column to the topic of a colleague's death. I think I did OK.
But then Beaver's father called me the next day to thank me for the column. The bit of small talk we had was enough to put quite a frog in my throat. Here was a man my father's age, talking to a man his son's age about how much he missed his boy. I didn't get much work done that day. There was too much to think about.
I e-mailed Nichols and Dearth to tell them I wanted to do a follow-up about their bicycle ride. Whether there was a story or not, I wanted to get Casey Beaver's name in the paper again. It just seemed that important. Then the guys made their trek across America. And they brought me back quite a tale, too.
Charmed ride
While I thought the ride was an excellent tribute to their friend, I was also just a bit nervous about it. After all, cycling all the way from coast to coast seems like such an arduous task what if one of them got in a bicycle wreck? Or, God forbid, got hit by a car? I just couldn't help but think to myself, "Jeez, I hope they're careful out there."
Want to know how perfect the ride was? In a little over a month, it didn't rain on them one time. Oh, it rained while they were away. But it only rained on days they had already scheduled to rest.
Larry Bird waved at them. They were in French Lick, Ind., and asked a little kid where the basketball great lived. The kid pointed towards a bridge, told them to cross it, and they'd see his house on the right. According to the kid, Bird was in town, too.
The guys steered their bicycles down the street. Bird was on his porch working at replacing an outdoor light. They waved. He waved back.
They stopped in St. Louis and caught a Cardinals/Cubs game. Sammy Sosa didn't just hit a homer, he hit a grand slam. And then, there was the President.
Monumental event
Nichols and Dearth had a schedule to keep in order to make all their media opportunities. While they were riding, they stopped in major cities along the way and gave interviews to local TV channels, radio stations and newspapers.
Keeping media appointments made the duo ride a little farther than they wanted to sometimes. By doing the extra miles, the guys arrived in Washington D.C. on July 2, a couple days early. They had hoped to find an audience with President George W. Bush when they got there, but it wasn't going to happen. Sure, they had a noble cause, but if everyone with a noble cause could sit down with the President, he wouldn't get much else done. It was their final stop, and by this time Aaron Beaver, Casey's little brother, had joined the guys.
They were visiting the Jefferson Memorial when suddenly the monument was taken over. The crowd was cleared out by men in black suits with sunglasses and wired ear pieces. For no real reason, Aaron Beaver, Nichols and Dearth were told they could stay.
"You'll wanna see this," one of the men said to them.
Only 10 people were allowed to remain inside the monument. Another 50 were allowed to watch from a distance. A caravan of black Suburbans arrived, along with an occasional helicopter flying overhead. A limo pulled up, and out hopped the President and the First Lady.
"It was surreal, it was like a movie," Nichols says. "They walked right up to us. Next thing I know, we're shooting the bull with the President for 15 minutes."
Of course, the first thing President Bush asked them was where they came from. Nichols wasted no time telling Bush where they were from, but most importantly, why they were in D.C.
"I told him we rode our bikes across America to get there, and he reacted by hitting me in the stomach with the back of his hand. He smiled and said that we must be in good shape, and that he tries to keep in shape also," Nichols says. "Then I told him about Casey, and how we were hoping to talk to him (Bush) about Casey. He told me, 'Well, you're talking to me now.'"
The group got to share their story with the most powerful man on the planet.
"There's no telling what he'll do," Nichols says." But we wanted to tell him the story, and that's what we did.
"And then he told us he appreciated what we were doing. That's quite an experience right then, to have the President tell you he appreciates something that you're doing."
The First Family had to bid the group good-bye but made sure to pose for a few photos. As he left, Bush turned to Aaron Beaver and said, "God bless your brother."
Seems to me that God blessed the whole voyage.
Copyright 2018 The Lawrence Journal-World. All rights reserved. This material may not be published, broadcast, rewritten or redistributed. We strive to uphold our values for every story published.