Chicago — Sammy Sosa is perfecting the art of the three-homer game, while passing up the chance to go for four.
For the second time in two weeks Sosa homered three times in a game, and came out without swinging for a chance at a fourth shot, despite a 22-mph wind blowing out to left.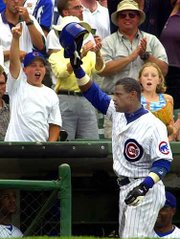 Sosa had his fourth career three-homer game and drove in six runs, helping Kevin Tapani win for the first time in almost 11 weeks, as the Chicago Cubs routed Milwaukee, 16-3, Wednesday.
"I wanted to do the best I could to help the ballclub," Sosa said. "I'm not thinking about it. I'm thinking about winning more games, not anything else."
Sosa has 14 homers in August all in the last 18 games and 49 this season, one short of his NL-leading total of last season. He was taken out of the game after his last at-bat, a solo home run in the sixth. Sosa could have batted again in the eighth.
"You've got to respect the other team. It's not about embarrassing the other team," said Cubs manager Don Baylor, who also yanked Sosa on Aug. 9 against Colorado a 14-5 loss before Sosa had a chance to homer a fourth time.
Heat was cited that day for giving Sosa an early rest.
Sosa hit solo, two-run and three-run homers on Wednesday.
Sosa, who went 3-for-4 and equaled his career high in RBIs, has gone 15-for-24 with six homers and 12 RBIs in his last six games.
Expos 7, Giants 1
Montreal Javier Vazquez pitched eight strong innings and Geoff Blum's three-run homer capped a six-run third to lead Montreal over San Francisco. Vazquez (13-11), who hadn't allowed a run since Aug. 7, extended his career-best scoreless innings streak to 23 innings before allowing Jeff Kent's RBI double with one out in the fourth. Vazquez allowed four hits, struck out four and walked three. Barry Bonds went 1-for-2 with two walks, scoring the Giants' lone run.
Phillies 2, Astros 1
Philadelphia Robert Person allowed two hits in eight innings and Scott Rolen drove in both Philadelphia runs as the Phillies snapped a season-high five-game losing streak. Houston had its five-game winning streak snapped and is two games ahead of second-place Chicago in the NL Central. Philadelphia remained one game behind first-place Atlanta in the NL East.
Person (11-6) didn't allow a hit after Lance Berkman's RBI double in the fourth. He retired 12 straight batters from the fourth inning to the eighth. After a two-out walk to Craig Biggio, Person got Jose Vizcaino to ground out to end the inning. Person struck out seven, including Jeff Bagwell three times.
Reds 3, Cardinals 1
Cincinnati Left-hander Lance Davis singled home a run and shut down streaking St. Louis for seven innings, leading Cincinnati over the Cardinals. The loss dropped St. Louis back into third place in the NL Central, a game behind the second-place Cubs. Chicago beat Milwaukee 16-3 earlier Wednesday.
The Cardinals brought an 11-game winning streak to Cinergy Field, where their charge toward the top of the division has met an unexpected snag. The Reds have won two of the first three games in their series, which concludes today.
Cincinnati won for only the second time in 11 games. The Reds are 20-45 at Cinergy, the worst home record in the major leagues.
Marlins 8, Dodgers 6
Miami Kevin Millar and Mike Lowell drove in three runs apiece as Florida snapped an eight-game losing streak. Millar had an RBI single in the fifth, putting Florida ahead 4-3. He added his 14th in the seventh to help the Marlins win for the first time since beating Houston 13-5 on Aug. 11. Lowell went 3-for-5 with a two-run double in the eighth for Florida. A.J. Burnett (9-9) allowed three runs and four hits in seven innings to snap a four-game losing streak.
Mets 2, Rockies 1
New York Kevin Appier and two relievers combined on a two-hitter and Desi Relaford hit a two-run homer to lead New York over Colorado. Appier (7-10) surrendered a leadoff homer to Todd Helton in the second inning but nothing else, striking out seven and walking three. He had been 1-2 in eight starts since July 1. Rick White pitched a perfect eighth. Armando Benitez closed, giving up an infield single with one out in the ninth to Jeff Cirillo before getting his 31st save in 33 chances.
Diamondbacks 6, Pirates 0
Pittsburgh Albie Lopez pitched his first NL shutout and Mark Grace hit a three-run homer during Arizona's four-run first inning as the Diamondbacks beat Pittsburgh for their 10th victory in 11 games. Lopez (3-3) made his third consecutive strong start, pitching a four-hitter for his fourth career shutout. Lopez didn't allow a runner past first base until the ninth inning in his most dominating start since switching leagues.
Braves 6, Padres 3
Atlanta Greg Maddux earned his 17th victory to help Atlanta avoid its longest home losing streak in 11 years. Chipper Jones, Brian Jordan and B.J. Surhoff homered for the Braves, who snapped a six-game losing streak at Turner Field.
Copyright 2018 The Associated Press. All rights reserved. This material may not be published, broadcast, rewritten or redistributed. We strive to uphold our values for every story published.