Nick Bross likes to play his music loud 144.6 decibels, to be precise.
"It's nice and clean, and it's pretty loud," Nick says of the audio system he installed himself in his 1992 metallic blue Chevy Cavalier Z-24.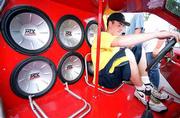 The 17-year-old Eudora High School senior won second place in his class and third overall in a July 28 car audio competition at Pro Sound, 500 E. 23rd St.
"It puts out 144.6 decibels, which is basically the equivalent of a jet engine," Nick says. "They tested it at Pro Sound. The guy that beat me in my class put out 147 (decibels)."
The challenge of the July contest was to see who had the loudest and clearest car audio system, with the most booming bass sound.
It's easy to see or hear, rather why Nick did so well in the Pro Sound competition.
Just hop in his car and let him pump up the volume.
BOOM! BOOM! BOOM!
Rhythmic rap tunes blast from the system, bass notes thumping like a wrecking ball against a condemned building.
If there were an "11" on the volume knob of a stereo system, this is what it would sound like.
And that's how Nick likes to play his music while he drives.
"You can (still) hear other things around you, depending on how hard you listen and how close they are," he says.
And he feels no pain when playing music that loud.
"You build up endurance to it," he says. "You get used to it."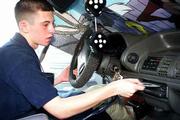 Nick's just one of many teens in the Lawrence area whose passion is car audio putting together the right components to create mind-blowingly loud stereo systems that provide a soundtrack for cruising.
Nick spent about $350 on his system, but some teen-agers are willing to plunk down $1,000 or more to build an audio system that can rattle people's windows from blocks away.
Why do they do it?
"It's something to show for your money, basically," Nick says. "It's kind of bragging rights: 'Check this out my stereo is better than yours.'"
Music as necessity
Dale Seele is one Lawrence teen-ager who takes his car audio seriously.
Seele, a 15-year-old sophomore at Lawrence High School, paid $1,500 last summer for a stereo system for his 1992 white Ford Tempo.
It features a Pioneer head unit (with CD player, radio and equalizer), two Pioneer door speakers, two 12-inch JL Audio speakers and a 500-watt Rockford Fosgate amplifier.
"It's loud. You can hear me coming from a long ways away," Dale says.
Many teen-agers buy premium stereo components, Dale says, because they don't like the sound quality of the factory-installed systems that come with their cars.
"The bass isn't good, the treble isn't good, it sounds really dull," he says.
Kevin Williams, a 17-year-old from Leavenworth, has moved far beyond the capacity of his car's original audio system. He's packed his 1993 Geo Storm with all the sound equipment it can hold.
"I've got two 15-inch speakers, an 840-watt Power Acoustic amplifier, subwoofers, a tweeter for high-pitched noise, an equalizer and a JVC CD player," Kevin says.
He likes to cruise through Lawrence on weekends, blasting his audio system.
"I'd say I have one of the loudest systems in town. You can hear me three blocks away," he says.
Kevin sees his high-powered sound system not as a luxury, but as a necessity in his life.
"I gotta have loud music, everywhere I go," he says.
Copyright 2018 The Lawrence Journal-World. All rights reserved. This material may not be published, broadcast, rewritten or redistributed. We strive to uphold our values for every story published.