With coaches from Shawnee Mission East Lawrence High's first opponent in the Haskell Stadium stands, LHS football coach Dirk Wedd wasn't prepared to go deep in the Lions' playbook Wednesday night during the annual fall sports jamboree.
"We're still searching for an identity, and Shawnee Mission East was here scouting so we really didn't show too much," third-year LHS coach Dirk Wedd said. "We're finding out a lot about a lot of kids, and that's what it's all about. We're still deeper than we've been in a long time."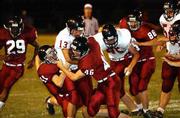 If he didn't already know, Wedd found out what junior fullback/linebacker Brandon McAnderson was all about. McAnderson, a 5-foot-10, 190-pounder, had seven carries for 69 yards, including two touchdowns to lift the LHS Red, the Lions' No. 1 unit, to a 20-6 victory over the White.
McAnderson's two TD runs went for 15 and eight yards. He also had a 17-yard gain at midfield during which he hauled several White players on his back.
"Boy, he ran hard," Wedd said of McAnderson. "We have to get the other four or five backs to run as hard. That was special. He has a chance to be a big-time back if he keeps working and doing the things that we ask him. He can be tough on defense too."
Senior running back Chris Johnson accounted for the Red's other score, a 23-yard run.
LHS quarterbacks Rob Scott and Brian Seymour, playing for the Red squad, both completed one of two passes. White's Brandon Womack completed three of seven passes for 32 yards. He had a one-yard TD run for White's lone score.
The Lions made two of four PATs, including one attempt by Joe Bell that went over after clipping the crossbar.
"We're going to work on that and probably have a pretty good goal-line offense packaged in," Wedd said of PATs.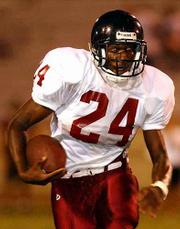 Andy Flory, a senior running back/linebacker, sustained a knee injury in the scrimmage. It wasn't thought to be serious.
"He dinged his knee," Wedd said. "He's had knee problems, so it is a concern, but he acted like he'd be OK."
The LHS jamboree, which came on the heels of a Free State scrimmage, was delayed by 30 minutes because of lightning. According to a lightning detector used by LHS administrators, a storm was within three miles of Haskell. Fans were instructed to take shelter under the Haskell stands to wait out the storm, which never developed
"We sat around for 30 or 40 minutes, and that could be good," Wedd said. "There might be a situation where we have to do it on a Friday night because of weather. I thought we came out a little flat."
LHS opens a week from tonight against SM East at SM South Stadium.
Copyright 2018 The Lawrence Journal-World. All rights reserved. This material may not be published, broadcast, rewritten or redistributed. We strive to uphold our values for every story published.