Since their inception three years ago, the revolving players in the independent acting troupe Card Table Theatre Productions have put out an impressive array of material, displaying solid acting chops, an ear for snappy dialogue, professional staging and fiercely irreverent wit.
So it's no surprise that their performance slate is quickly filling up for the upcoming season. It's also no surprise that they're staging another version of the "Victor Continental Show," to openly show off their skills to an incoming group of new Kansas University students.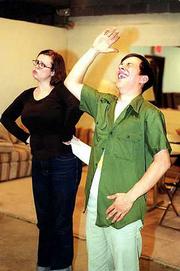 "We love to do the whole Victor thing, and it has grown in popularity every time we've done it," says Jeremy Auman, co-founder and director. "But this is the first time we've held it to coincide with the students coming back. It's really been built up to bounce off the audience."
Victor Continental is the cheesy, smarmy, hammy, so-bad-that-he's-good cult figure played by Lawrence actor Jerry Mitchell. He serves as a performer and narrator who makes comments to guide the audience through the production, which includes an in-your-face, schizophrenic variety hour packed with original music and sketches. Just think of good improvisational comics purposefully staging a skewered rendition of a bad community theater effort and potential viewers will get an idea of the show's format.
"I like to call it 'Saturday Night Live' meets 'Cabaret,'" Auman says.
Want proof? Just check out the performance itinerary. Everything from mock public service announcements to classic segments like "New York Times Theatre," "Ranger Bob," "Victor's Fabulous Fashion Show" and the Gay-2-Bees all make an appearance.
What: "Victor's Vault The Best of the Victor Continental Show," performed by Card Table Theatre ProductionsWhen: 10 p.m. Friday and SaturdayWhere: Liberty Hall, 644 Mass.Ticket information: 749-1972
Auman and co-founder Will Averill have a method of formulating their creative madness. About a month before show time, they bring together a loose-knit group of writers and actors to brainstorm over barbecue and beer. After deciding which ideas make the cut, the writers go off and pound out scenes and songs on their word processors. In a few weeks they get back together and decide which material makes it into the show. From there, Auman coordinates the act into a cohesive production package, arranging the bits, songs and interludes. He and Averill also direct and perform, and often rework the script through the entire performance run.
"We rehearse, use improv and change things up," he says. "Once we did a show and it seemed a little loose, so we changed it and made it tighter for the next night."
The current cast is an amalgam of KU alumni and present KU students, including veteran Card Table performers Kitty Steffens, Kari Jackson, Amy McCarville and Andy Stowers, along with 20 additional cast members. Ric Averill and Paul Rosen help provide the music.
"The problem with a huge cast is getting everyone together. I never think we can pull it off," Auman says.
While the rehearsal and staging might come across as a last-minute affair mounted on an adrenaline rush, the actors take the trade very seriously. Behind all the goofiness and gags is a real professionalism that becomes more refined with each passing year.
And it has reaped a good deal of critical and popular dividends. The group has performed sketch comedy, naughty puppet shows, original dramas and stagings of known works like David Mamet's "American Buffalo."
Last year Card Table collaborated with KU professor Paul Lim and his English Alternative Theatre program, providing the acting muscle to bring new playwrights' work to life on stage. The group helped stage "Bunnies" last fall, which went on to win numerous honors, and was one of six original plays invited to mount a production at the Washington D.C. Kennedy Center as part of the American College Theater Festival. It was Card Table Theatre members who acted in the Hugh Hefner-themed piece through the various competitions, including the capitol performance.
So the group is pretty jazzed about keeping pride in the productions.
"We hold ourselves to a high standard," Auman says. "We're an independent production company, so we like to put on the highest quality stuff that we can."
Copyright 2018 The Lawrence Journal-World. All rights reserved. This material may not be published, broadcast, rewritten or redistributed. We strive to uphold our values for every story published.