Washington — Rep. Gary Condit is talking for the first time about his relationship with missing intern Chandra Levy, agreeing to a series of interviews orchestrated by advisers to try to salvage his political career.
Condit agreed to a 30-minute interview with ABC News' Connie Chung that will air tonight from Modesto, Calif., which is in his district.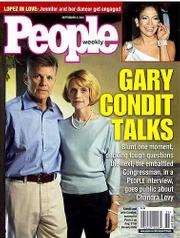 He was interviewed Tuesday by People magazine, which plans to run the story in its Sept. 3 issue that will have the California Democrat and his wife, Carolyn, on the cover. The issue will be on newsstands Friday. It was Condit's first interview since Levy, who is from Modesto, disappeared May 1.
Condit also will talk to a television station and newspaper in California, and Newsweek magazine, spokeswoman Marina Ein said. Condit's representatives have not disclosed the California media outlets.
Constituents in his central California district are hearing directly from him: More than 200,000 households are being sent a mailing intended to explain his actions in the wake of Levy's disappearance, Ein said.
She said the congressman has two goals in his interviews. "His primary concern is to express his personal pain with what has occurred and, secondarily, to correct the record," Ein said.
Aides say Condit, first elected in 1989, intends to seek re-election next year.
Some congressional colleagues have dismissed Condit's chances of re-election because of his actions in the Levy case. But several political consultants drew parallels to President Clinton's ability to survive the Monica Lewinsky scandal and earlier allegations of marital infidelities.
What the 53-year-old father of two has to say about his relationship with Levy, 24, will go a long way in deciding his political future.
"He has got to be careful not to put too much focus on himself because Chandra Levy is still missing and there is still a family that's grieving," said Rob Stutzman, a GOP consultant in California. "This is not about Gary Condit. He has to be careful not to dwell too much on his circumstances."
Police interviewed Condit four times. Not until the third interview, more than two months after Levy vanished, did Condit acknowledge an affair with Levy, a police source has said. Still, police have been adamant in declaring that Condit is not a suspect.
Whit Ayers, an Atlanta-based Republican pollster, said Condit must begin his national television interview with an apology to his constituents.
"He's embarrassed his constituents," Ayers said. "The difficulty is that there are so many unanswered questions that he will probably not be able to answer about the disappearance of Chandra Levy. Inevitably, the story will be incomplete, but at least people will have heard his side for the first time."
Stutzman said he will be looking for something from Condit that explains why he did not immediately provide police a complete account of his relationship with Levy.
Stutzman also said it is significant whether Condit gives an indication that he still has his wife's support.
One constituent, a Republican who says she has voted for Condit in every election, said Wednesday that Condit has lost her support no matter what he says.
"He should have told the truth right off the bat," said Melva Soares, who lives near Condit in Ceres, Calif.
Copyright 2018 The Associated Press. All rights reserved. This material may not be published, broadcast, rewritten or redistributed. We strive to uphold our values for every story published.