Ray Durham homered twice and doubled as the Chicago White Sox rallied for eight runs in the sixth inning and beat the Kansas City Royals, 13-12, Wednesday night.
Carlos Beltran had a two-run triple in the Royals' seven-run first, then hit his first career grand slam in the seventh. He also singled and walked twice.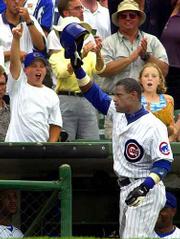 Durham hit two solo homers and an RBI double. Carlos Lee and Aaron Rowand also had three of Chicago's 18 hits. Kansas City also had 18 hits.
Beltran's six RBIs were just one short of the team record. He batted with one out and a runner on first in the ninth, but struck out.
The Royals sent 13 batters to the plate in the first and the White Sox sent 13 to the plate in the sixth.
Kansas City led 7-2 after one, with Luis Alicea and Neifi Perez becoming the first Royals in more than a year to get two hits in an inning.
Doug Henry (2-1) relieved Royals rookie Chris George with an 8-5 lead starting the sixth and gave five hits and seven runs while getting only one out.
Copyright 2018 The Lawrence Journal-World. All rights reserved. This material may not be published, broadcast, rewritten or redistributed. We strive to uphold our values for every story published.