With a mix of humor and serious advice, Kansas University Chancellor Robert Hemenway welcomed students to the university and their academic year Wednesday night.
Hemenway spoke to about 800 students who attended KU's 136th annual opening convocation at the Lied Center.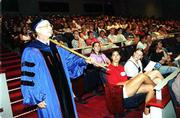 "I have to admit that what you've gone through, Hawk Week, the events leading up to this convocation, is my favorite time of the year," Hemenway said. "The marching band is practicing. The football team is undefeated. ... Every student has an unblemished record. Not a single class skipped. No one has received a parking ticket."
Some of that may change today, the first day of classes at KU.
Hemenway told the students many of them freshmen to reach out to their advisers, professors and roommates to help ease the transition from family life to college life.
He compared Jayhawks to geese flying in a "V" formation for aerodynamics.
"Right at the end of the V is your spot as freshman Jayhawks," he said. "Every bird in the V makes flying easier for the next bird, and the end bird where you are gets the most help of all."
Other words of wisdom from the chancellor:
l "Be honest about alcohol. You're not funnier when you drink. I swear you're not."
l "Racist jokes are not something to laugh at."
l "Stand up for your religious faith."
Student body president Justin Mills also offered some advice during his speech. He urged students to take classes beyond those required to graduate, get involved in hall government or other organization and "explore the diversity of KU" by attending cultural events and meeting others who aren't like them.
He also plugged the Graduate Teaching Assistants Coalition's efforts in negotiating a new contract with the university. He urged students to write letters to the University Daily Kansan and lobby administrators to help the GTAs.
"I believe their welfare directly affects the quality of your education," he said.
Lloyd Sponholtz, chair of the University Senate Executive Committee, said he'd asked 200 KU freshmen to describe themselves in five words. The most common were intelligent, creative, determined, hard-working and responsible.
He told others to jot down five words that describe themselves and post them in their rooms.
"They can serve as a constant reminder of the personal qualities you want others to see in you," he said. "Such qualities don't flourish on their own. They take constant nurturing."
The message came through to two KU freshmen from Overland Park who attended the convocation. They said the event was a good way to kick off their college careers.
"I just wanted the experience," Danielle Bartel said. "I just wanted to see what it was all about."
Cindy Chang said she was especially impressed by Hemenway's sense of humor.
"Usually when older people try to make a joke, it doesn't come across funny," she said. "But he was funny."
Copyright 2018 The Lawrence Journal-World. All rights reserved. This material may not be published, broadcast, rewritten or redistributed. We strive to uphold our values for every story published.