Skopje, Macedonia — With his miniature spy planes at 16,000 feet and guided by remote control, U.S. Army Capt. Daniel Dittenber's pilots camped on the ground aren't exactly in any danger.
That's just the way the Bush administration likes it. Putting hardware instead of humans into harm's way is especially appealing to Washington as the United States joins NATO's newest foray into the Balkans, a mission to disarm from ethnic Albanian rebels in Macedonia.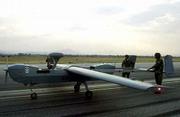 NATO's ruling council was expected to approve that mission today and clear the way for the full deployment of 3,500 troops after the alliance's supreme commander in Europe recommended it Tuesday.
The mission comes at a time when the Bush administration is trying to get American troops out of the Balkans, never mind sending more in. So U.S. troops will play a behind-the-scenes role.
Only several hundred Americans will participate, focusing on limited logistical duties. Dittenber, a 26-year-old officer from Turner, Mich., says the photographs his unit's reconnaissance aircraft will take should play an important part in the risky mission.
"We keep an eye out for them. We make it possible for them to see the bad guy around the corner," he said.
The Bush administration has made no secret of its desire to disengage from the Balkans, although it has promised not to make any dramatic troop reductions without consulting with its European allies.
It will be the Europeans who will pick up rebel weapons at collection sites scattered across rugged mountain territory where firefights have raged since the insurgents took up arms six months ago, saying they were fighting for more rights for Macedonia's minority ethnic Albanians. After a peace deal signed last week expanded those rights, the rebels say they're prepared to hand in their weapons.
NATO has said it will deploy the full force only when it is confident that the cease-fire is viable and lasting.
Copyright 2018 The Associated Press. All rights reserved. This material may not be published, broadcast, rewritten or redistributed. We strive to uphold our values for every story published.