Ernst Ulmer answers his door accompanied by a large, exuberant golden retriever and an excitable dachshund. Dressed in shorts and a Kansas University T-shirt, the small and sturdy artist with the shock of white hair offers a warm greeting and apologizes for his lack of footwear, which he swiftly attends to. Ushered into his studio, visitors see walls covered with his work. In the center of the largest wall, one canvas dominates. The 6-foot-wide depiction of Quantrill's raiders burning downtown Lawrence on August 21, 1863, titled "Blood Stained Dawn" is familiar to many people in this area.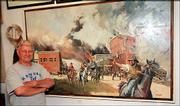 The son of Ukrainian immigrants, Ulmer began making art as a child. "It was always easy for me," recalls Ulmer. To his hard working parents, art wasn't really of interest. They ran a small grocery and as Ulmer recollects, "They never saw any of my work," tho he does remember his mother paying him two dollars once, to paint a picture. This would perhaps be Ulmer's first commission; it would certainly not be his last.
In 1946, Ernst Ulmer mustered out of the service and the Wyandotte County native enrolled at the Kansas City Art Institute on the G.I. Bill. After completing his education, Ulmer spent the next few years working for General Motors where he learned to read blueprints. Combining this skill with his background in art, Ulmer then began a career producing architectural renderings. After more than 20 years in that field, the market for that craft began to thin and Ulmer turned his energies to painting full time.
Ulmer's other abiding interest, in addition to his art, is the history and culture of the prairie and its peoples. "How can you grow up here and not be interested in it?" asks the painter. Images of Native Americans, ranch hands and Civil War era scenes are everywhere.
When asked about his interest in the Civil War history of this area, Ulmer warms quickly to the subject. He pulls historical tomes from his bookshelves, some recently written, some written as far back as the 1870s. On the subject of Quantrill, the raid, and the general antagonism between Free-Staters and their opposite numbers on the Missouri side of the state line, Ulmer is effusive.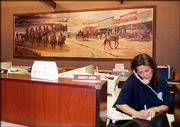 "These were not nice men," he says as he describes a painting of "Jennison's Jayhawkers." The so-called "red legs," named for the red leggings they wore below the knee, are seen looting and burning a Kansas farm while executing Order No.11. This order involved the punishment of Kansas farmers that acted in aid of rebel raiders from across the state line. Residents that were unlucky or foolish enough to be found at home when the Jayhawkers came calling were killed.
In addition to "Blood Stained Dawn," Ulmer has painted several other images of Quantrill's raiding party, including another large canvas that hangs behind the teller's counter at the First Kansas Bank in Gardner, Kan., southwest of Olathe. Quantrill passed through Gardner on his way to Lawrence, and the painting shows his party as they passed through downtown Gardner.
Copyright 2018 The Lawrence Journal-World. All rights reserved. This material may not be published, broadcast, rewritten or redistributed. We strive to uphold our values for every story published.