Tomato lovers, rejoice!
Months of suffering through the cellophane-wrapped plastic balls that are passed off as tomatoes finally has paid off. The harvest is in.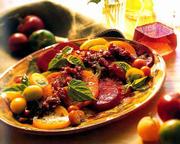 Grocery stores and farmers markets are bursting with ripe, meaty tomatoes of every color, shape and size waiting to be tossed in a salad, simmered into a sauce or even eaten like an apple.
But even at the height of the season, getting the best fruit (remember, they're not vegetables) can take a bit of searching.
In his latest book, food writer Jack Bishop demystifies the tricks for picking a prime tomato plus every other vegetable, artichokes through zucchini.
"Tomatoes should be richly colored and their skins should be smooth," he writes in "Vegetables Every Day" (Harper Collins, 2001, $30).
"When shopping, give the tomatoes a sniff; they should smell sweet and delicious. Gently squeeze the tomatoes; they should not feel mushy or rock-hard."
Never refrigerate the tomatoes, Bishop warns. That makes them mushy and dulls their flavor.
For fans of cherry tomatoes, he offers a Greek recipe (see page 2D) that calls for sautg them whole in olive oil and topping them with fresh feta cheese.
The Associated Press
Markets and farmer's stands in many parts of the country are piled with tomatoes, in hues from green to deepest red, and equal bounty is ripening in countless back yards.
America's leading food professionals share how they take advantage of the harvest. Many of their suggestions are very easy.
Barbara Fairchild, editor of Los Angeles-based Bon Appetit magazine, has happily sampled tomatoes throughout the world, she said.
"I think the best way to enjoy tomatoes during the summer when they are at their peak is, of course, not to mess with them too much," she said. "The very simplest way I enjoy them is just cut in half and sprinkled with a little fleur de sel, that great sea salt from Brittany.
"I also serve them frequently sliced and fanned out on a plate, alternating with slices of fresh, tender buffalo-milk mozzarella, some basil leaves tucked in between and then sprinkled with the fleur de sel and fresh cracked pepper.
"Finally, another delicious thing to do is simply to coarsely chop a pound and a half to two pounds of the juiciest tomatoes mix the colors if you have heirloom or yellow tomatoes in addition to the red place them, with juices and all, into a big mixing or salad bowl. Add some chopped fresh basil, minced fresh garlic to taste, some capers if you like them, and salt and pepper.
"Add one pound of freshly cooked penne or fusilli pasta and toss it all together. The heat of the pasta will mellow the garlic and soften the basil. If there is not enough juice from the tomatoes or not enough tomatoes simply chop a few more and add them until the dish is the consistency that you like. Serve it with lots of freshly grated Parmesan or pecorino Romano.
"It's a nice side dish for grilled meat or chicken, and it can be served hot or at room temperature.
"To use it as a main-course pasta salad, cool it to room temperature, add cooked shrimp or chopped, grilled chicken, or some of that great canned tuna from Italy that's packed in olive oil (add the oil, too). Serve it in a bowl lined with Bibb lettuce leaves, or do separate plates.
"It's a terrific showcase for fresh tomatoes."
Saut Cherry Tomatoes With Onion, Olives
And Feta Cheese


(Preparation 10 minutes)
2 tablespoons extra-virgin olive oil
1 medium onion, minced
1 pint cherry tomatoes, stems removed
12 large Kalamata olives, pitted and chopped
1 tablespoon fresh parsley leaves, minced
Fresh ground black pepper
2 ounces feta cheese, crumbled (roughly 1/2 cup)
Heat the oil in a large skillet. Add the onion and sautver a medium flame until golden, about 5 minutes.
Raise the flame to medium-high and add the tomatoes. Cook until they are heated through and just begin to brown, roughly 2 minutes. Add the olives and parsley, and pepper to taste.
Transfer the tomato mixture to a wide, shallow serving bowl. Sprinkle with feta cheese and serve immediately.
Makes 4 side-dish servings.
Caterer and cookbook author Susan Simon gives tomatoes an Italian twist in her book, "Insalate: Authentic Italian Salads for All Seasons" (Chronicle Books, 2001, $17.95).
She brings out the best in tomatoes when she combines a fantastic variety of them in what she describes as a "quirky and intensely tomatoey tomato salad."
Tomato Salad With Tomato Sauce


(Preparation 30 minutes, chill 2 hours)
1 clove garlic, minced
1/4 cup extra-virgin olive oil
1 1/2 pounds plum tomatoes, peeled and coarsely chopped
2 tablespoons fresh basil, coarsely chopped
1 tablespoon red wine vinegar
Salt and freshly ground black pepper to taste
6 or 7 ripe tomatoes in a variety of colors
Cherry tomatoes in assorted colors and sizes for garnish
Whole fresh basil leaves for garnish
To make the sauce, sauthe garlic in the olive oil in a heavy skillet for about 30 seconds. Raise the heat to high and add the plum tomatoes.
Reduce the heat and simmer the sauce until it is reduced by about one-third, roughly 20 to 30 minutes.
Remove the sauce from the heat and add the chopped basil, vinegar, salt and pepper. Let cool and refrigerate for about 2 hours, or until chilled.
To serve, cut the remaining large tomatoes into 1/4-inch thick slices. Arrange on a serving platter, alternating colors. Spoon the chilled tomato sauce over the center of the slices. Garnish with cherry tomatoes and whole basil leaves.
Makes 6 servings.
Copyright 2018 The Associated Press. All rights reserved. This material may not be published, broadcast, rewritten or redistributed. We strive to uphold our values for every story published.