Officers from several agencies swarmed Monday over Eastern Douglas County as they searched for a man U.S. Marshals said was armed and dangerous.
Douglas Linn Snowden, 48, is suspected of leading a Douglas County Sheriff's deputy on a chase that ended when his vehicle ran off the road on Kansas Highway 10 near the Douglas-Johnson County line.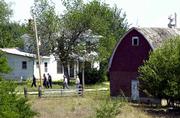 The man fled on foot, prompting a search that included 10 to 20 law officers, dogs and helicopters.
Snowden is sought by U.S. Marshals for a federal parole violation. The Johnson County Sheriff wants him for aggravated assault and intimidation of a witness.
Snowden was thought to have frequented the area where the chase and crash occurred, said Mike Shute, supervisor in the U.S. Marshals' Kansas City, Kan., office.
The Douglas County deputy had been assisting marshals and Johnson County officers in trying to locate Snowden when he spotted a car the suspect was believed to be driving near K-10 and Evening Star Road in Johnson County, Shute said.
"He just jumped him up and the chase began," Shute said of the deputy's actions.
The suspect fled on foot after the crash, which involved only the suspect's vehicle. Other agencies assisting in the search included Eudora Police, Johnson County Sheriff's Department, the Kansas Highway Patrol, U.S. Marshals, the Kansas Bureau of Investigation, and the Kansas Department of Corrections and their search dogs.
Officers searched a wide area along the Douglas-Johnson County line and around Eudora. The search was continuing Monday night.
Although officers didn't see Snowden carrying a weapon, they believe he that is armed "based on prior statements he's made," said Deputy Mike Thibault of the U.S. Marshals.
Snowden is a 48-year-old white man weighing about 150 pounds. He is 5 feet 8 inches tall, has blue eyes and gray-white hair. He wears glasses and a mustache and goatee.
Snowden also has a scar on his nose and tattoos on both arms. He was last seen wearing a pinkish red plaid or striped shirt, light-colored pants and a black hat.
Copyright 2018 The Lawrence Journal-World. All rights reserved. This material may not be published, broadcast, rewritten or redistributed. We strive to uphold our values for every story published.