Independence, Va. — She was the red-haired spark plug of the neighborhood, a boisterous grandmother of nine, a prankster who once mooned a friend in the street.
But if Betty Jean Angeline had not confessed to police, residents of this one-stoplight town in the Blue Ridge Mountains say they never would have believed she was capable of killing two neighbors.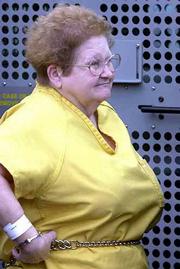 Today Angeline, 58, will be in court for a preliminary hearing on murder charges in the slayings earlier this year of Linda McKnight, 59, and Glenda Jenkins, 62. The sheriff's office has refused to give a motive.
Prosecutor J.D. Bolt has not said whether he would seek the death penalty, which could apply because Angeline is accused of killing more than one person. Virginia has not executed a woman since 1912.
Independence is a community of fewer than 1,000 along a windy mountain road. It is a place of unlocked doors, neighborhood barbecues and afternoon chats on the front porch.
"Our little bubble's been busted," said Tim Phipps, who now double-checks the locks on every door at night. "It's just broke up our world."
Angeline, who has family in Grayson County, came here with her husband four years ago after he retired from his job at an auto plant in Delaware. The two moved into a red brick house overlooking a field of grass and hay.
A gregarious woman, Angeline attended swap meets and regularly played bingo at the Veterans of Foreign Wars hall or the Elks Lodge. She volunteered for the rescue squad auxiliary. At the town's Christmas parade, she gave out dolls and other toys to children from her pickup.
"I've got a 3-year-old granddaughter that just loved her," said next-door neighbor Buster Cox, who got a visit from Angeline just about every day.
Few suspected Angeline when McKnight was found dead in her basement last winter, shot several times. A few months later, when Jenkins was shot in her kitchen, Angeline was one of the first people there to help out.
Both victims were prominent in Independence. McKnight was a descendant of the county's early settlers. Jenkins was a retired nurse whom many families called before going to the hospital. Like Angeline, both women had worked for the rescue squad.
Two years ago, squad members accused Angeline of stealing $550 from a Thanksgiving fund-raiser. "She was upset. She was disgusted because they thought she took the money. She was going to sell out and move," Cox said.
Sheriff Jerry Wilson said investigators have found no connection between the murders and the rescue squad's accusations against Angeline. She was never charged with the theft.
Court papers say Angeline confessed to the murders, but the documents give no motive. Her attorney, Jonathon M. Venzie, suggested her alleged confession may have been given under pressure by police.
The past few months in jail have been horrific for Angeline, who never had a run-in with the police until now, Venzie said. He said other inmates stole her dentures and flushed them down the toilet.
"She's kind of beat down. She's frustrated that people are assuming she's a monster," the attorney said.
Copyright 2018 The Associated Press. All rights reserved. This material may not be published, broadcast, rewritten or redistributed. We strive to uphold our values for every story published.