Atlanta — Somewhere in a massive stack of data, graphs, pie charts and computer images are the details behind the death of Dale Earnhardt and perhaps what can be done to reduce fatal wrecks.
NASCAR will announce today the conclusions of its investigation into the death of its biggest star on the final lap of the Daytona 500. The answers will come in a two-hour presentation in which an engineer and a researcher will detail every step they took in studying the Feb. 18 crash.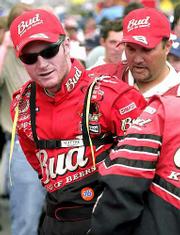 When they're through talking and their report has been analyzed, both NASCAR and the way the sanctioning body approaches safety could be changed forever.
A motorsports source familiar to parts of the investigation told The Associated Press on the condition of anonymity that part of the report will say that NASCAR plans to form a safety team similar to the ones currently used by the IRL and CART series.
Those safety teams include doctors and emergency service technicians who travel the circuits on a regular basis and respond to any emergency with specialized equipment and training.
Aside from that, there may be no clear answers as to how to prevent accidents like Earnhardt's.
"You are not going to be able to find the magic bullet to save every driver and prevent all injuries," Dr. Dean Sicking said Monday. "You have to attack it as an approach and incrementally improve safety in all areas."
Sicking was one of the leading experts NASCAR turned to for its six-month long investigation.
A civil engineering professor at the University of Nebraska, Sicking is considered a leading researcher on barrier and crash safety and directs the Midwest Roadside Safety Facility.
He'll join Dr. James Raddin, a director with San Antonio-based Biodynamic Research Corp., in announcing the results of NASCAR's investigation.
Raddin's role was to analyze what caused Earnhardt's fatal injuries.
Neither expert was permitted to discuss their findings at an informal briefing on Monday monitored by several NASCAR representatives.
But the two men gave some insight into what their roles in the investigation were and how it progressed.
So far, the only thing known about Earnhardt's death is that a court-appointed, independent expert found that the driver died of a basilar skull fracture caused by a violent head-whip when his car hit the wall.
Raddin will presumably address whether or not a head and neck restraint device could have prevented that and what role, if any, Earnhardt's seat belt played.
Five days after the accident, NASCAR announced a broken seat belt had been found in the car and their physician theorized that could have caused Earnhardt's head to move forward and strike the steering wheel.
Dr. Barry Myers, the court-appointed independent expert, concluded in an April report that the belt did not play a role in Earnhardt's death.
Sicking, who was already working with NASCAR at the time of the accident in developing energy absorbing barriers, was asked to investigate Earnhardt's death within days of the wreck.
Raddin and his partners at Biodynamic Research were retained in April.
Neither company is directly involved with NASCAR and both men said the sanctioning body gave them free reign on the report.
They said focus of their tests was never steered in any particular direction and NASCAR never balked at paying for additional work on the report which is estimated to have cost NASCAR at least $1 million.
"As far as I'm concerned, we would not have taken the retention if we were not going to be able to do an objective analysis," Raddin said. "We were given that opportunity."
Sicking's role in the investigation centered on accident reconstruction, which he said was easy to do in Earnhardt's crash because of all the information he was given, such as the video of the wreck.
"We normally don't have nearly as much detail as we did from this crash," Sicking said. "The more detail, the more evidence you have, the better. So from that aspect, the amount of evidence we had made this reconstruction easier."
The two men looked at three key areas in their investigation. Most important to them was the interior of the car, the car itself and the barrier it struck. What they found could lead to radical changes to the sport.
The Orlando Sentinel, quoting unidentified sources, has already reported the experts found that the cars don't have enough crush resistance in the front ends to adequately protect drivers in crashes.
The Sentinel said redesigning probably will be recommended, with energy-absorbent bumpers and the aluminum-foam "crush box" under development.
Should Sicking and Raddin confirm that today, the redesign could be just one of many recommendations. Other changes could be safer seats, harnesses. It's also possible the report could lead NASCAR to require the use of a head and neck restraint.
Use of such restraints has skyrocketed since the accident, with 41 of 43 drivers in Sunday's race wearing one. That includes Dale Earnhardt Jr., who wore one for the first time at the urging of his fellow drivers.
Copyright 2018 The Associated Press. All rights reserved. This material may not be published, broadcast, rewritten or redistributed. We strive to uphold our values for every story published.