INDEPENDENCE, MO. — President Bush told a crowd Tuesday there's plenty of money in the federal budget to bolster military, Social Security, Medicare and education spending even after his massive tax rebates.
"There are some who say tax relief is going to make it hard to meet the budget," Bush said Tuesday morning during an appearance at Harry S. Truman High School in Independence, Mo. "But the reality is it will boost the economy."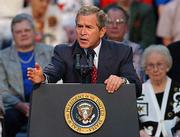 With the White House Office of Management and Budget preparing to issue financial projections Wednesday, Bush assured the crowd the economy is strong, despite the recent downturn.
But Bush warned Congress against local, special-interest projects during the upcoming budget process.
Following the speech, Congressman Dennis Moore (D-Kan.) issued a statement saying he agreed with Bush's call to limit federal spending.
"I will be interested to see whether the president's very optimistic projections for the upcoming economic year prove correct, since they will be necessary to fund his plans for a national missile defense system," Moore said. "None of us want to return to the failed borrow-and-spend policies of the past."
"The president correctly points out that we have the second-largest surplus in history," Moore added. "But the rest of the story is that virtually all of that is Social Security money we have promised not to spend."
For more information, tune in to 6News at 10 p.m. on Sunflower Broadband's Channel 6.
You can also find further updates by picking up a copy of tomorrow's Journal-World.
Bush also used the speech to tout his faith-based initiative, which would allow churches and religious groups to apply for federal money for social programs, partial privatization of Social Security and education reform that requires more accountability in schools.
---
The Associated Press contributed some information to this story.
Copyright 2018 The Lawrence Journal-World. All rights reserved. This material may not be published, broadcast, rewritten or redistributed. We strive to uphold our values for every story published.