JACKSONVILLE, FLA. — Doctors and trainers found no further damage to Tony Boselli's knee, and Jacksonville expects its Pro Bowl left tackle to be ready for the season opener.
Boselli twisted his surgically repaired right knee in practice Sunday, and had to be taken off the field on a cart. But a thorough examination showed only a bone bruise.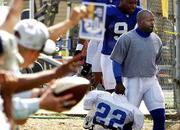 Asked if he expected the five-time Pro Bowl lineman back for the Sept. 9 opener, coach Tom Coughlin said, "Oh yeah. I hope so. We'll see. Again, no one has told me any different."
Coughlin also said receiver Jimmy Smith will see his first action of the preseason Thursday, when the Jaguars play host to Kansas City. Smith had two abdominal operations in the off-season and has only returned to full practice this week.
Panthers
Charlotte, N.C. Carolina quarterbacks Jeff Lewis and Chris Weinke were so bad in their last preseason game that they have earned more playing time in the next one.
Lewis and Weinke struggled in a 23-8 loss to New England on Saturday, combining for three interceptions and just 89 yards.
Both will see more action Thursday night against Baltimore as coach George Seifert continues to evaluate his top two signal-callers.
Lewis, the starter, was 5-of-9 for just 37 yards and had one interception. Weinke was 5-of-13 for 52 yards and had two interceptions.
Lewis and Weinke had shared time with Dameyune Craig and Matt Lytle in the first two preseason games, but will now likely play the entire game against Baltimore.
Ravens
Westminster, Md. The injuries are beginning to mount for Baltimore, which will begin defense of its Super Bowl title with a battered offensive line blocking for a substitute running back.
All-Pro left tackle Jonathan Ogden, who sprained his right ankle in Saturday's 16-3 loss to the New York Jets, will not play Thursday against Carolina.
The Ravens, already without right tackle Leon Searcy for the next three months, expect Ogden to be ready by the Sept. 9 opener against Chicago. Cornerback Duane Starks, who hurt his knee against the Jets, will probably miss the final two preseason games.
Redskins
Carlisle, Pa. Former All-Pro guard Dave Szott signed with Washington, rejoining coach Marty Schottenheimer, with whom he played most of his career in Kansas City.
Szott's only negotiation was over an extra day off so he could spend it in Morristown, N.J., at home with his wife and a 6-year-old son who has cerebral palsy.
For Schottenheimer, it was a deal worth making because the Redskins needed another offensive lineman.
Szott, 33, was one of the top linemen in 11 years with the Chiefs, but he tore his left biceps in the first game of the 1998 season and did the same to his right biceps in the first game of the 2000 season. Meanwhile, he and wife decided that it was best to move back to their native New Jersey to find the right school for their son, Shane.
Rams
St. Louis The Rams filled a hole at defensive end, signing former Tampa Bay starter Chidi Ahanotu to replace Cedric Jones, lost for the season with a hip injury.
The 6-foot-2, 285-pound Ahanotu started 104 of the 113 games in his NFL career. He was drafted by Tampa Bay in 1993.
In eight seasons, he has 385 tackles and 31 sacks. Last season, Ahanotu had 3.5 sacks, 63 tackles and three forced fumbles. His best season was 1997, when he had 65 tackles and 10 sacks, both career highs.
Ahanotu was released by Tampa Bay in a salary-cap move in April.
Jets
Hempstead, N.Y. New York nose tackle Jason Ferguson will miss the season with a torn rotator cuff.
Ferguson underwent an MRI on Monday that indicated he would need surgery on his right shoulder. Jets coach Herman Edwards said Ferguson would have surgery later this week and would be placed on injured reserve.
Ferguson was hurt on the first day of training camp. He was placed in a harness as the team hoped the tear would heal, but the MRI showed otherwise.
Ferguson signed a four-year, $12.7 million contract in the off-season to stay with the Jets. In switching to a 4-3 alignment, the team expected Ferguson to be their main run-stopper in the middle of the defensive line.
Copyright 2018 The Associated Press. All rights reserved. This material may not be published, broadcast, rewritten or redistributed. We strive to uphold our values for every story published.