It's grape harvest time.
Morning dew glistens on the vines of green and purple grapes that might fill bottles of Chardonel or Norton wine.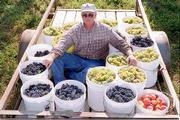 Grape picking started a week ago at Holy-Field Vineyard and Winery, Basehor, and Davenport Orchards and Winery, between Lawrence and Eudora.The owners say business is growing.
Les Meyer and his daughter, Michelle, started the Basehor winery, just off U.S. Highway 24-40, in 1994. They now produce 4,000 gallons of wine from 14 acres of American and French hybrid varieties. They're also testing three German vines this year to see if they will survive Kansas' winters.
"Our purpose is to see if we can grow other grapes that we wouldn't have to baby to death," Michelle Meyer said. "With as much work as it is already, we don't have time to take the vine off the trellis and bury it in the ground."
Waiting out the weather
Greg Shipe, owner of the Davenport Orchards on East 1900 Road a half-mile north of Kansas Highway 10, estimates he lost half his crop because of last year's harsh winter. He said he normally produces 2,000 gallons of wine, but several vines suffered winter freeze.
"The bunches are smaller this year," he said. "The wines will take one frost and then throw more shoots. But each time it does, it means a lot smaller grapes."
The Meyers said they consider themselves lucky. Michelle Meyer said the winter harmed some of their vines but shouldn't slow production much.
"It could have been a lot worse," she said. "We had to retrain some of the vines."
The entrepreneurs said they also are challenged by the effects of 2,4-D, a herbicide used by farmers to kill certain weeds.
Help during the harvest
Right now, harvest is in high gear. Both wineries rely on help from volunteer harvesters. At Davenport, picking times are from 7 a.m. to 11 a.m. Saturdays, followed by a light lunch and wine tastings. At Basehor, harvesting starts at 8 a.m. Sundays, followed by a home-cooked noon meal. Picking usually lasts through mid-to-late September.
During the week, Shipe is helped by Lawrence retirees, Harold Wray, 82, and John Golden, 85. The men said they enjoy picking the grapes because it's relaxing and good exercise.
"When you get old and you've got nothing to do, this is as good a place to be as it gets," Golden said. "The high clouds, the mist over the valleys and the birds, it's really something."
After volunteers complete their work, the grapes are pressed and processed. The transformation from grape to drinkable wine takes six months to two years, Les Meyer said. Both wineries offer several varieties of sweet and dry red and white wines.
Harvest time gives Shipe and the Meyers a chance to educate people about wine and the production, which sometimes spurs an interest in the business.
According to local history, Kansas was the third-largest grape producing state in the United States in the late 1800s.
"It's a very long-term process to bring back the wine industry," Shipe said.
Shipe said there is a growing interest in wine making and wine drinking, but there are only seven wineries and about 15 vineyards operating in Kansas compared to 33 wineries in Missouri. He said a few of the vineyards are talking about opening a commercial winery in the near future.
"It's about people really grabbing hold of the idea and really going with it," he said. "It takes a lot of guts to do it. It's going to be something that you learn about every day."
Shipe said there needs to be more research to make the wine business boom. He said Kansas State University staff can answer some questions, but there aren't any researchers here studying grapes like there are at Southwest Missouri State in Mountain Grove, Mo. Meanwhile, he said, vineyard owners learn from other growers.
Jim Anderson, coordinator of Missouri's grape and wine program, said he believes the industry could blossom in Kansas and other Midwest states.
"We are trying to grow an industry here, and I feel it can work in other states," he said. "What we're trying to get farmers to do in Missouri is to diversify their crops, and we're trying to educate people about wine."
People interested in visiting the vineyards can reach the Davenport Orchards at (785) 542-2278 and the Holy-Field Vineyard and Winery in Basehor at (913) 724-9463.
Copyright 2018 The Lawrence Journal-World. All rights reserved. This material may not be published, broadcast, rewritten or redistributed. We strive to uphold our values for every story published.