Leavenworth, Wash. — Fire crews made headway Sunday on containing a 6,500-acre fire that had threatened homes near this Bavarian-themed resort town.
With temperatures and wind dropping, firefighters were able to focus on containment for the first time since the Icicle complex's 13 fires began with a flurry of lightning strikes more than a week ago.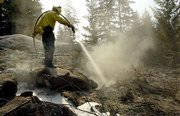 "It's a good time to fight a fire," said Wenatchee National Forest spokesman Greg Thayer. "But all it takes is for one of these fires to get in some fuel and get some wind and it's cooking again."
Lines dug by firefighters on the heavily forested eastern slopes of the Cascade Range will link up with roads, trails and land burned over in 1994, a landmark year here for wildfires.
The blaze was one of eight fires charring more than 106,000 acres Sunday in Washington state and one of 33 burning more than 380,000 acres in seven western states, according to the National Interagency Fire Center in Boise, Idaho.
The fire has already forced the evacuation of 50 homes, mainly on Icicle Creek Road, but none have been destroyed so far, and no serious injuries have been reported.
Nine homes have been lost in the past week to Washington's largest fire, the 52,100-acre Virginia Lakes complex on the Colville Indian Reservation.
Oregonians living near the 27,725-acre Monument wildfire, accustomed to smoke and ash outside their windows, welcomed the familiar view of mountains on Sunday morning.
"I think we're pretty well out of danger," said Donna Kennedy after a chilly night with temperatures dipping to a crisp 32 degrees. "It was cold, but it was a relief."
Nevada still had the most acreage involved in active fires 107,000 acres being burned by two blazes.
On ABC's "This Morning," Oregon Gov. John Kitzhaber urged Congress and President Bush to take more aggressive steps over the next 10 years to improve the health of Northwest forests.
Instead of making emergency appropriations after massive fires $1.6 billion was appropriated to address last summer's western blazes he recommended long-term investments to "save the country billions of dollars, and I would say hundreds of lives over time."
He recommends thinning, prescribed burns and "some repairing and restoration" to restore forest health.
Copyright 2018 The Associated Press. All rights reserved. This material may not be published, broadcast, rewritten or redistributed. We strive to uphold our values for every story published.