It sounded like a familiar billing dispute, except it was the bank insisting the check was in the mail and the phone company saying it never arrived.
Weeks after the check was supposedly issued, my $71.99 bill caught in the middle of this exchange was paid. But AmSouth Bank and Verizon couldn't agree on the date it was settled.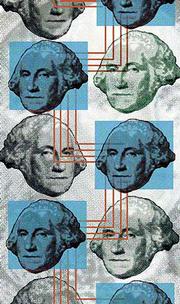 The transaction was part of my initiation into online banking, and it certainly did not occur at Internet speed.
In many cases, online banking puts a dot-com facade on a collection of sluggish traditional procedures: paper bills delivered by the U.S. Postal Service and paid with old-fashioned paper checks. As with my phone bill, it also adds a bit of uncertainty: Will the bill really be paid after you click the button?
Internet banking has yet to live up to the expectations of customers who had hoped to have a virtual bank branch available on their PC desktops. Nor has it paid off for banks that had hoped for a flood of low-maintenance online customers.
Banks have been slow to make the Web an appealing choice for consumers. Many charged fees of $5 or more a month for online bill-paying services an almost immediate turnoff and many banks poorly explained their services, leaving people to wonder about reliability and security.
Only about 3 million of the nation's estimated 130 million Internet users are going online to pay their bills, according to a study by the Gartner Group consulting firm.
A survey by the Gomez Internet Quality Measurement firm (www.gomez.com) showed many consumers weren't aware of online services their banks offered, said Moriah Campbell-Holt, a research analyst.
More than 38 percent of the 3,500 respondents in the online survey did not know whether they could order checks online, and half were unsure if they could stop payment on a check. In the Gomez ratings of online banks, the best scored less than a 7 on a 10-point scale.
This year, banks such as AmSouth and Bank of America have been aggressively pushing online services, eliminating monthly fees to get more people to put their checkbook and other financial services online.
"If they offer something of value, the marketplace will gobble it up," said Dick Bove, a banking analyst at Raymond James Financial in St. Petersburg, Fla. "I think Internet banking is wonderful. I love it. I'd be disappointed if I had to go back to the old way."
This year AmSouth has more than doubled the number of its customers banking online, adding more than 185,000 accounts to its Internet service. Greg Miles, senior vice president for electronic banking, attributes the boom to making it free.
"AmSouth treats this as a product that will enhance customer retention, customer loyalty," Miles said.
Missing expectations
But will those newcomers decide online banking is ready to be trusted with their family finances?
I signed up for AmSouth's free service after resisting online banking for years because of the monthly fees. Why should I pay for a service that seems to save the bank money?
On the other hand, if I could pay my monthly bills online for free, not only would it be convenient, but I also would save about $5 a month in postage.
From the first moments, I discovered Internet banking and bill payment might not be everything I thought:
l I filled out a form at the AmSouth site (www.amsouth.com) to sign up. But if I submitted it electronically, the bank would have to mail a paper document for me to sign and send back. Instead, I printed out the form and dropped it off at my local branch.
l After receiving my online account number about two weeks later by traditional mail, I found surprisingly little online help in setting up the bill-paying services.
For example, it didn't specify whether account numbers should be typed as they appeared on bills, such as 123-456-789, 123 456 789 or 123456789. I sent an e-mail to AmSouth about the account numbers, and was told to put in 123456789.
l More perplexing, AmSouth lists merchants and others with which it has bill-paying arrangements. But some companies have multiple listings, such as two similar accounts for Verizon and three for Waste Management, and no explanation of which to use. In fact, none of the Waste Management options applied to me.
l Complicating it further, AmSouth asks that you make online banking as convenient as possible for the bank by dealing only with the particular companies it has lined up for electronic payments. A sheet enclosed with my account number read: "It is imperative that you select your payee from the predefined list, if possible. Please make sure you check the entire list carefully before making any additions."
It didn't help that calling some of the companies, such as Verizon, for guidance revealed that their customer service reps were as much in the dark about online banking as I was.
I started slowly, paying only companies on AmSouth's designated list. The bank usually debited my checking account the next business day. I called the billing companies to determine when the bills were paid, usually using an automated phone system. I found that it took on average four to five days between the debit and when a bill cleared.
Verizon turned out to be the main challenge. My account was debited May 11 for a bill due May 25. By May 17, Verizon's automated phone system reported no payment. I sent an e-mail to AmSouth and was told there had been no delays.
After two more days passed and no payment recorded, I sent a second e-mail to AmSouth. I got a call May 21 from a customer service rep who promised that the bank would make sure the payment was made. I called Verizon May 23 to extend the bill deadline.
On May 29, four days after the initial due date, the Verizon phone system reported the bill paid. When I got my next Verizon bill, however, it indicated the payment went through on May 22. And a letter from AmSouth placed the date at May 25.
"Of all payments, we have some issue with 1 percent of them," Miles said. "The check is lost in the mail, some sort of delay with the posting merchant, some sort of error. In a large number of cases, an error is made by our customer," such as typing in a wrong account number.
Lost in the mail? In AmSouth's case, 52 percent of the bills are paid electronically; 48 percent by old-fashioned check, including accounts not on its predefined list. For those getting paper checks, it takes three to five days to clear.
"This is a convenience service," Miles said. "It's not well-suited for every conceivable payment. But for the vast majority of bill payments, where the factor is convenience, this works well."
A losing proposition
It also means that free Internet banking remains a losing proposition for banks: AmSouth pays first-class postage for the checks it mails on behalf of its Web customers, spokesman Rick Swagler said.
In addition, checks are mailed individually, even if AmSouth has to send multiple checks to the same merchant.
AmSouth and Verizon were careful not to criticize the other's system, but both defended how their companies handle such accounts. As a test, the next month I used Verizon's Web site to pay the bill, authorizing the phone company to debit my checking account. It took only three days to appear as a debit on my checking account.
AmSouth said it guarantees online payments will go through. If a payment is initiated at least five business days before the due date and a problem causes a late fee or penalty, AmSouth will work with the merchant to void the fee or reimburse the customer, Miles said.
As for my other problems, Miles said I should have received a user's guide with the account number I did not and more substantial online tutorials are expected . Miles sent me the missing brochure, but it deals mainly with telephone banking and would not have answered all my questions.
In fact, a preview of the new online tutorial showed that it would have been very helpful in setting up the account. A redesign of the site to give a better overview and access to all AmSouth accounts also is in the works.
Miles said the bank has received relatively few questions from users about how to use the site.
So where was my money during the 11 to 18 days between debit and payment to Verizon? Likely in that mysterious limbo that bankers call the float, where they earn a little interest on the money.
"The float doesn't pay for the (Internet banking) service," Miles said. "It's at best moderately close to a break-even standpoint."
Though it saved me a few bucks in postage the first month, online banking took more of my time just to double-check that the payments arrived when and where they were supposed to.
But as my comfort level rose, I added accounts and spent less time worrying.
Copyright 2018 The Lawrence Journal-World. All rights reserved. This material may not be published, broadcast, rewritten or redistributed. We strive to uphold our values for every story published.