Between the end of this year's magnificent walleye fishing in early summer and the start of the channel catfish and white bass fishing in mid-summer, there was such a lull that many fishermen didn't know what to do.
During this spell, water temperatures escalated. Reports from La Cygne Lake noted that the water streaming out of the power plant there had reached 110 degrees.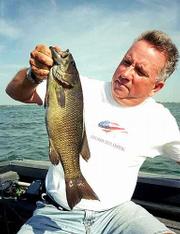 The white-hot heat of mid-July kept scores of die-hard anglers off the water. Even jet skiers and recreational boaters were kept at bay by the heat.
For instance, on a brutally hot Tuesday in July, when the heat index hovered around 108, Bob Laskey of Lawrence and a friend were the only anglers afloat at Melvern Lake.
Laskey and his friend are inveterate bass fishermen, and from late spring and into early summer, they had suffered through a period that will be recorded in the annals of eastern Kansas bass fishing as one of the roughest in a long, long time.
No matter what lake they plied during these weeks, they could catch no more than 18 bass, and often they could muster only a dozen. And these two fishermen traditionally call a 25-bass outing a paltry showing.
This spell of sorry bass fishing, compounded by the intense heat, left these two serious anglers with nothing to do but experiment.
So on this hot day, they launched their boat at Melvern and began experimenting with drop-shot rigs. The drop shot was originally devised by bass fishermen in Japan, where the fishing is often difficult.
Then in the 1990s, several Japanese anglers came to the United States and began using it with great success at bass tournaments in California and other western states.
Last August, the drop shot garnered national attention, when Mark Rizk of California finished second and Kotaro Kiriyama of Japan fifth by employing drop-shot rigs at the 2000 BASS Masters Classic on Lake Michigan around Chicago, catching bass as shallow as two feet and as deep as 26 feet.
Now it is being used in the largemouth bass waters of the south and smallmouth bass abodes of the north.
Laskey had been toying with the drop shots since May, but he never fished it for more than a few minutes here and there.
However, at Melvern Laskey and his partner were determined to use drop shots for hours on end. They employed these rigs on medium-action spinning outfits and eight-pound Trilene XL line.
To the end of the line, they attached a No. 2 split shot, and 12 inches above the split shot a No. 1 offset hook was affixed by a Polmar knot.
To the hook, they impaled a two-inch Berkley Inshore Pompano Tube, and the tube was hooked through the head with the hook point exposed.
They worked this rig on main-lake rocky points and humps, casting it into water depths of five to 10 feet and retrieving it by slowly lifting the rod and quickly dropping it and ultimately hopping it into 18 feet of water.
Within the first five minutes of plumbing a 15-foot dropoff, they hooked and released a 19-inch smallmouth. At a couple other spots, they tangled with an 18-incher, then two that measured 16 and 17 inches.
By the outing's end at mid-afternoon, they had released 12 smallmouth and one spotted bass, proving the drop shot will work in eastern Kansas waterways when the bass fishing turns tepid.
Copyright 2018 The Lawrence Journal-World. All rights reserved. This material may not be published, broadcast, rewritten or redistributed. We strive to uphold our values for every story published.