The morning of Aug. 21, 1863, a Missouri border ruffian named Skaggs put a pistol to the head of Lawrence resident Samuel Agnew Riggs and pulled the trigger.
The gun misfired. Riggs escaped and so survived Quantrill's Raid.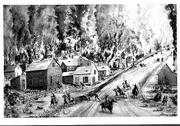 Almost 140 years later, Ellen Chaffee and her many cousins are still celebrating the pistol's failure.
"There are about 200 people who would not be here if the gun had worked. It's very sobering," said Chaffee, the president of two small North Dakota colleges.
In June, Chaffee and about 200 cousins gathered in Middleburg, Va. There they had the first reunion of the descendants of Samuel Riggs, a man targeted for extinction, Chaffee says, because he had once prosecuted William Quantrill for thievery.
"There was wearing of the Agnew tartan and telling of the tale of Quantrill's Raid," Chaffee said of the reunion.
The bloody, signature episode in Lawrence history that has become the stuff of book and film continues to excite interest. And it still kindles passions, though they've thankfully lost the murderous potency of yesteryear's.
"My great-grandfather rode with Quantrill, and I'm not ashamed to admit it," said Philip Thompson, a Vienna, Va., man who claims many of the raiders attacked Lawrence in retaliation for the collapse of a prison in Kansas City that killed and mutilated women kin of suspected Southern sympathizers.
According to Thompson:
"On hearing of the unspeakable atrocity, many young Missouri farm boys who had never owned slaves, never thought about politics, never harmed a hair on anyone's head mounted their horses and headed for Lawrence, the lair of the most extreme and bloodthirsty among the federal guerrillas."
Thompson's defense of the raiders clearly could get a good argument going this week in Lawrence, and everywhere descendants of raid victims and survivors remember ancestors' accounts of the carnage visited on a town that offered virtually no resistance. An estimated 150 townspeople were killed. Houses and businesses were torched.
Chaffee said the raiders were described at her family reunion as "basically ruffians who paraded as pro-slavery zealots in order to disguise their pure lawlessness."
Surely part of the raid's enduring ability to fascinate are the many what-ifs associated with it.
What if Lawrence had been warned the raiders were coming? Several people tried to alert the town but failed.
A Shawnee Indian named Pelathe rode a horse to death trying to warn Lawrence residents the Missouri raiders were on their way.
"He rode his horse at top speed with few stops for rest and water to quench its thirst, until at last the horse fell and died short of reaching Lawrence," wrote Richard Sheridan in a soon-to-be-published history of Lawrence.
Today's Journal-World includes an eyewitness account of the raid and a summary of various activities today marking the anniversary, including the 4:30 p.m. dedication of the Hobbs Park Memorial at 10th and Delaware streets. The memorial pays tribute to the city's abolitionist founding fathers.
Copyright 2018 The Lawrence Journal-World. All rights reserved. This material may not be published, broadcast, rewritten or redistributed. We strive to uphold our values for every story published.